A Dynasty Taken Down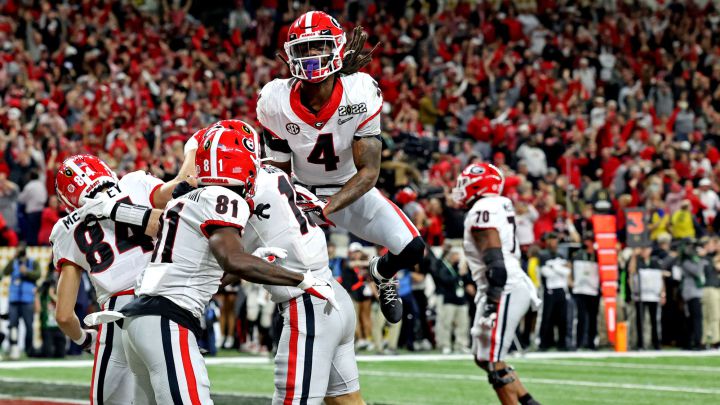 It is that time of the year this past week, when the best of the best face off in the long awaited College Football National Championship. On Monday, January 10, 2022 the University of Alabama and the University of Georgia faced off to compete for the title. Here is a recap from the game:
This event is a powerhouse of opportunities for brands to advertise their name and gain likeness from fans attending the game and watching at home. Almost as popular as the Super Bowl, the National Championship is offered millions of ads, but only chooses a select few. Here are some of the top ad campaigns that debuted: AT&T and Mercedes EQ were the headliners and halftime entitlement sponsors, then there were also Ram Trucks, Capital One, All State, Bob's Burger The Movie, Dr. Pepper, Taco Bell, Siri, and Gatorade.
It is nice to see all these major well known brands being sponsors for this massive event, but let's consider it from a brand athlete perspective. Brands want to work with athletes that are well known, have a big following, and truly endorse a brand or product. Thus, other brands often reach out to players rather than massive events. Opensponsorship.com does this as well. College athlete sponsorship is a huge market, as well as the influencer market. These two markets are evident within this event. Each team can hold up to 110 players. Which leaves room for companies like OpenSponsorship that can connect companies that want to sponsor college athletes together.
As the world's largest and smartest marketplace for connecting athletes in search of sponsorships to brands looking for athlete influencers to sponsor their product, lets take a look into athletes from UGA and Alabama that OpenSponsorship works with:
William Poole III is the defensive back for the University of Georgia. He averaged 11 solo and 4 pd for the season. He was present during the championship win over the University of Alabama.
Bryce Young is the starting quarterback for the University of Alabama. For the season he had 4,872 yd, 47 td and 7int with an average of 87.6 QBR. He is was well recognized during his season with Alabama.
Jamaree is a part of the offensive line for the University of Georgia. He was a Senior for the championship winning team.
Chris is a linebacker for the University of Alabama. He averaged 7 solos for the entire season.
While football is megahouse for advertising, players and athletes are starting to take sponsorships and advertising into their own hands. It will be exciting to watch the transition that brands make as athlete branding starts to become more dominate than event branding.