Recently, OpenSponsorship was in the middle of creating a deal between a female athlete and what we thought was a makeup wipe brand. It was only when we got a call from the athlete's agent that we realized that the brand, SweetSpot labs, makes cleaning wipes and soaps for vaginas, not faces. That led us to think about where feminine products fit in to the sponsorship world.
The Problem
Feminine hygiene products are conspicuously absent in the world of sports sponsorships. Female athletes promote products from clothes, to drinks, to yogurt. But tampons and pads, basic necessities for women, don't get the same publicity as other products. They're not "niche" products by any means, considering 50 percent of the population uses them. Yet they are still very infrequently advertised, and even less frequently sponsored by athletes.
In 1995, Tampax volunteered to become the new title sponsor of the WTA, offering more money than any other brand. Even though the WTA was struggling financially at the time and needed the support, but they turned Tampax down because of the stigma around periods. The WTA didn't want to make a joke out of itself.
Recently women's sports have grown immensely, with the inception of the Women's National Basketball Association in 1996, the Women's Professional Soccer League in 1997, the Canadian Women's Hockey League in 2007, the National Women's Soccer League in 2012, and most recently the National Women's Hockey League in 2015. However, sponsorship of feminine hygiene products has not grown proportionately. Very few big name athletes are partnered with feminine hygiene brands. Serena Williams partnered with Tampax in 2009, and that's just about it.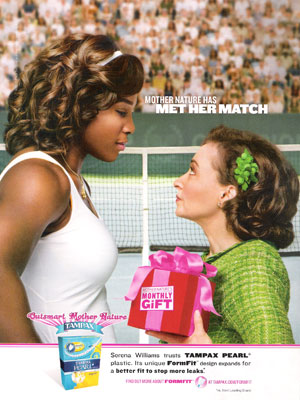 Working to change the game
The tampon and pad company Always is working stop the stigma surrounding periods and to promote confidence in girls and women. They launched their #LikeAGirl campaign, reclaiming the phrase that is so often said as an insult, and they are using it to try and stop girls from dropping out of sports. They're not afraid to air commercials often and during prime times. While watching the Olympics in Canada recently, I saw the commercial with soccer goalie Stephanie Labbé (below), at least three times a day. Another example of Always supporting women in sports and normalizing menstruation.
https://www.youtube.com/watch?v=E-QyrOc8Xsc
More women are playing sports than ever. They are role models and cultural icons. They are on billboard and TV screens. It's about time both men and women stopped being embarrassed about menstruation. There's no reason athletes shouldn't be sponsored by feminine hygiene products as often as any other brand.
Top 3 Fantasy Partnerships
Who we think would be great together
Western New York Flash of the NWSL and Tampax
Tampax got its start in the north-eastern United States with its first factory in New Jersey, not far from where the Western New York Flash play.
Asian Tour (golf) and Unicharm
Unicharm is a Japanese hygiene product company, the sole tampon/pad company in japan. Partnering with the Asian Tour would strengthen and spread the brand name while helping grow the Tour.
World of Dance (modern dance series) and Playtex Sport
Playtex sport is specifically designed to provide extra protection for active women. Modern dance puts Playtex to the ultimate test, and would build their brand as the product that can get a woman through anything.