How to Increase Sales Using Social Media
Anyone looking to sell a product or service needs to understand how to increase sales using social media. As the world continues to shift towards an online marketplace, digital marketing has not only become a powerful marketing technique to increase sales, but it has become a necessity. Social media outlets such as Facebook and Instagram have grown exponentially in the last few years. Facebook has about 2 billion active Facebook users a month while Instagram has about 700 million. When looking at how to increase sales using social media, it's important to be aware of this growth. Because of it, social media has become the ultimate platform in which to target potential customers or clients.
Due to their popularity however, many businesses have set aside large sums of money to swarm people's news feeds with ads. Thus, being a smaller company that stands out in social media has become increasingly more difficult. One has to ask themselves "how can one increase sales using social media in the most efficient and cost effective way possible?"
The Power of Influencer Marketing
One of the most efficient ways to increase sales using social media is through the concept of influencer marketing. Influencer marketing is a type of advertisement that focuses on one powerful individual in a certain market that usually has a large (and loyal) social media following. For more details on what influencer marketing is, check out a previous blog post "Why Your Company Should Be Using Influencer Marketing".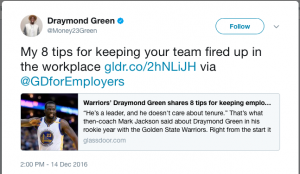 One of the benefits of attracting such an individual is due to the great influence and power that they have on social media. In a post entitled "Love it or hate it: Influencer Marketing Works" Daniel Newman offers countless statistics proving how one can increase sales using social media:

In addition, there is another reason for how using an influencer can increase sales using social media. Generally on Facebook, posts with the most likes or comments are the ones that show up higher on news feeds. The problem however is that encouraging engagement on these posts can be difficult. With an influencer however, their followers are determined to have a connection with the influencer and thus like, comment, and share the post. With this engagement, the post is more likely to be located at the top of people's news feeds. By being at the top of people's news feeds, it will lead to greater exposure for potential sales.

How Can I Get an Influencer for My Brand?

When determining how to increase sales using social media, influencer marketing is one of the most efficient & cost effective methods. Now, how does one attract an influencer to help increase sales using social media?
A common misconception is the idea that one needs to have connections to obtain these major influencers. In reality however, at OpenSponsorship we have changed the game to better help you increase sales. OpenSponsorship is the leading marketplace for sports sponsorship. We find ways to connect brands to professional athletes in the most efficient and cost effective way possible. Once paired with an athlete, your business is sure to take off.
If you're a brand sign up for free here to access our roster of 2600+ athletes, teams and events. If you're an athlete, sign up for a free account here & start applying to campaigns posted by our brands.