Please allow me to introduce myself. My name is Jason Severiano Lampkin - that's me in the picture above - and I'm one of the new interns here at OpenSponsorship. Though many - if not all of you - will never have even heard of me, there once was a time when people thought the world would never forget my name. Instead, I became the man that many never even get the chance to know.
I excelled in sport from a young age and was touted - as is often the case for prodigious talent, particularly in soccer - as "the next Michael Owen." Admittedly, we shared many similarities; we went to the same junior school and high schools, we played for the same local and county sides, we both played for Manchester United, and - as you'll see from the video below - we both possessed an electrifying turn of pace. But a cruel twist of fate and a wicked twist of my knee was all it took for my promising soccer career to take a quite drastic U-turn.
The only silver-lining with the ACL injury was that it meant that I was still following in Michaels footsteps.
https://www.youtube.com/watch?v=-H1TimXcg1c
But enough of the sob story. Let's fast-forward five years and focus on the positive.
After a fun-filled, success-sprinkled collegiate career on a sports scholarship at Long Island University, I'm finally heading into the final few weeks of my MBA. I'd never imagined that I'd be picking up a post-graduate diploma - I'd always fantasized about lifting trophies instead - but I did envisage a future where I'd still be involved in sport in some way, so thanks Opensponsorship for making one prophecy a reality!
Working here has opened my eyes to the countless possibilities the modern-day athlete can be exposed to. I'd had a glimpse of it in my days as a first-team squad member at Aston Villa, and after a week of working on delightful deals for all the amazing athletes on our site, I decided to give it a go myself. I wanted a piece of the pie, so I applied to every campaign I could find and crossed my fingers for a bite. Within a week, I'd already partnered with two brands and was in discussion with a couple more.
You can find my OpenSponsorship athlete profile HERE.
I was hungry for deals and OpenSponsorship served up some real delights. For instance, one of the brands I decided to work with - Yümmy Bazaar - offered partnered athletes tasty treats from their World Sampler Box in return for a simple social media post, meaning that I got to sample snacks from Spain, Georgia, Russia and Italy just for twiddling my thumbs. My fingers worked faster dipping in to the pack of Ibizan sea-salt chips than they did on the caption! Hardly hungry work.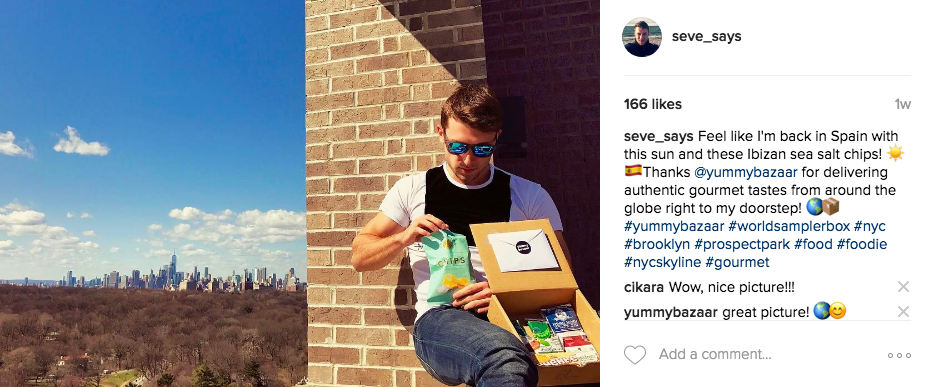 The success I've experienced on OpenSponsorship - just as an intern and former professional athlete - has whetted my appetite for more and I can only imagine the feasts that awaits all of you big-hitters out there. And though I'm sure you're all thinking that I'm operating on some insider information, please believe me when I say that the deals I've done have been completely my own doing.
Brands are looking for interested athletes that will interact with their product or service and engage their followers, and us athletes are looking for good brands to work with to make some extra income. It's simple math and it always equals a favourable outcome for both parties.
So let's look at another OpenSponsorship example...
Take our skilled skateboarder Greg Lutzka for instance. He submitted a proposal that was accepted by one of our brilliant companies - EightSleep - and produced an awesome social media post telling his thousands of followers about the tremendous technology involved with the company's ingenious mattresses.
So not only does Greg now get a better nights sleep, he can also rest assured that we at OpenSponsorship will keep working around the clock to keep finding him - and all of our other athletes - fantastic partners offering outstanding opportunities.
Greg's social following easily trumps mine - just look at how our Instagram followings compare (seve_says vs greglutzka) - but OpenSponsorship's platform helps to level the playing field and make applying to campaigns a fair game for all of their athletes. There are deals to be done for athletes of all shapes, sizes and social stats; from the established pro's of the sportsphere - like Russell Westbrook and Rob Gronkowski - to the niche stars like myself.
There's plenty of promising campaigns - like the ones in the picture below - currently up on our site that have been recently posted by brands seeking athletes to promote their fantastic product or service.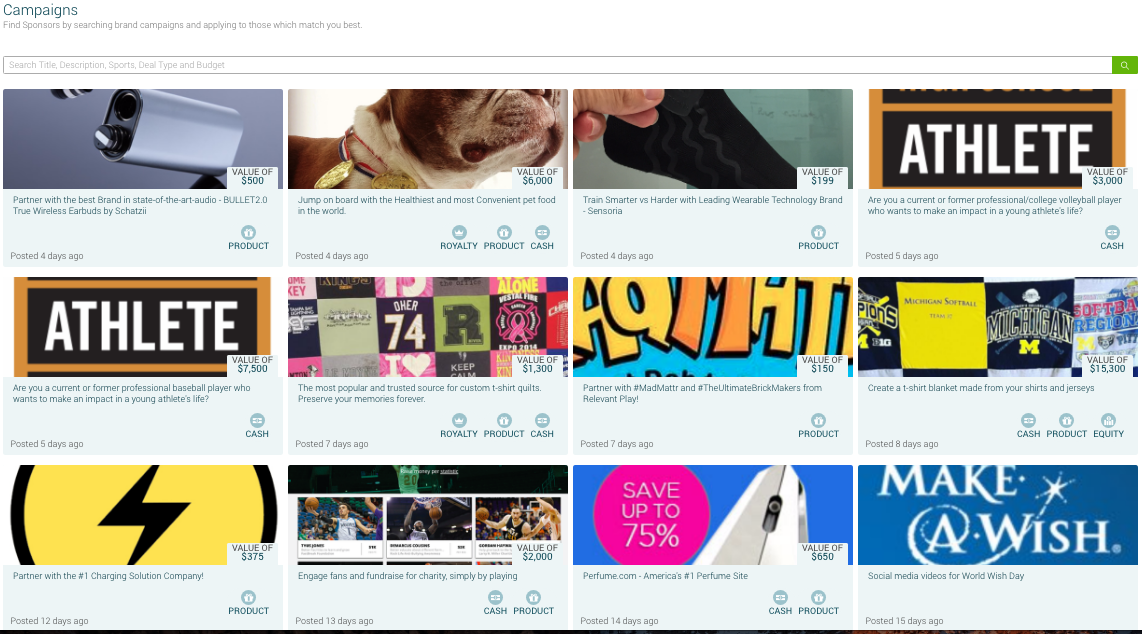 Keen for a slice of the action?...
If you're an athlete and interested in partnering with some awesome brands and earning extra income, royalties and free product, CLICK HERE to create your free OpenSponsorship account. For all of our fantastic athletes already signed-up, please follow THIS LINK to view all of the wonderful opportunities just waiting for you to apply.
Apply intently to campaigns you're interested in; foster a good relationship with the brands on our platform; accept deals that delight you; fulfil your requirements and reap the rewards. It's like anything in sport; the more you put in, the more you get out.
Stay hungry, my friends!