As of January 2021, TikTok has 73.7 million active users worldwide, and it's just getting started. The app is projected to increase to having almost 90 million users by 2024. With this rapid growth, new users are joining every day to create a fanbase like Charli D'Amelio or enhancing their following like Russel Wilson. TikTok's algorithm makes it easy for you to go from zero to one million followers in just 24 hours. Videos show up on users' "For You" pages that closely match their interests based on videos they have previously watched or liked. The app shortly becomes addictive as each video is only 15-60 seconds long, just enough to grab your attention and send you on your way to the next.
Over the course of the COVID-19 pandemic, social media platforms such as TikTok have become a way for existing celebrities, athletes, and influencers to quickly connect with and grow their fanbase. If used correctly, TikTok can create new experiences and partnerships that may not be able to exist outside of the app. The app has allowed for fans to watch and "attend" events such as sports games and concerts, places that the pandemic would otherwise prohibit fans from going.
This past February, TikTok announced their multi-year partnership with UFC, which is the third-most followed sports league on the platform since 2019. The partnership delivers exclusive livestream content for TikTok users worldwide, featuring pre and post-game interviews, behind the scenes footage, and TikTok-exclusive content. Because of the newfound partnership, UFC will connect with and reach millions of more viewers worldwide and only add to their already massive following. The additional partnership for livestream content with TikTok gives their athletes more exposure, leading to more opportunity for fame and fortune down the line.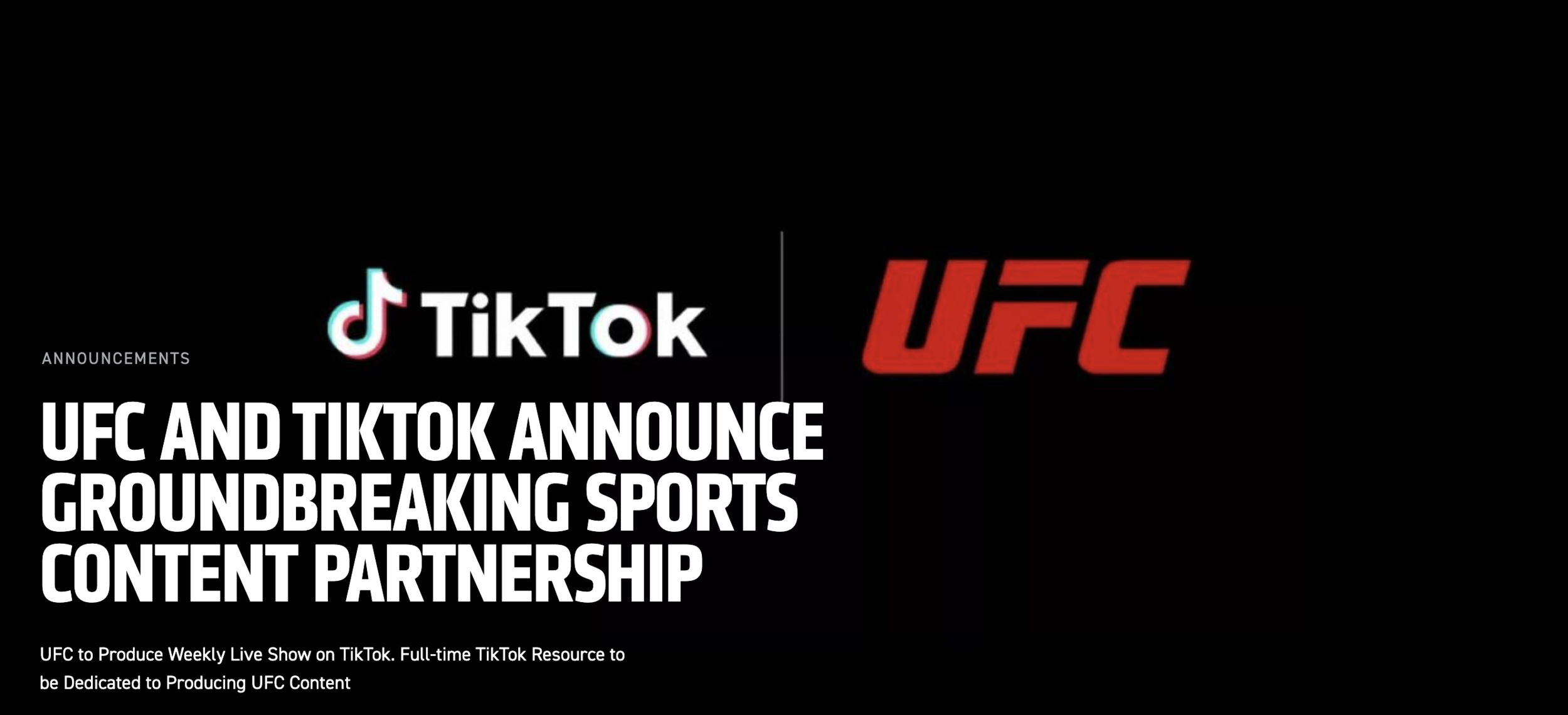 Not only do TikTok athletes gain followers from their partnerships, but their fans are exposed to a new side of their professional sports careers. The livestream that TikTok offers allows the athletes to be more "real" given the volume of raw content posted about their lives on social media. Athletes being more than just an athlete is attractive to both fans and brands alike because it makes them more relatable to regular people. TikTok has the ability to put an athlete's life on display, for better or for worse, all while generating millions of more fans to benefit both the platform and athlete in partnership.
TikTok has been a way for athletes to engage their audience with their brand partnership. Athletes like Giannis Ugo Antetokounmpo showcased his brand partnership with Ready Nutrition on his TikTok in February. Big name athletes such as OpenSponsorship clients Gabby Douglas, Isabelle Shee, Demi Bagby, and Rob Gronkowski have been able to use TikTok as a part of advertising their brand deals. Gabby Douglas partnered with Little Ceasars, posting a TikTok of herself dancing and eating their new cheesy bread.
Isabelle Shee partnered with Cobra King and advertised their new Speedzone Driver by showcasing it in a video on her TikTok.
Demi Bagby partnered with GymShark and posted a video of her in the workout gear to promote the brand.
And finally, Rob Gronkowski posted a TikTok of a skit for Hisense that promoted their Valentines Day discount deal.
Similar to the benefits to both TikTok and the athletes during their partnerships, OpenSponsorship benefits athletes by making it easier for them to pair with brands; athletes are exposed to far more when they engage in an authentic partnership with OpenSponsorship.