Top 3 Social Cause Campaigns Done Through OpenSponsorship
Clients are beginning to pay greater attention to purpose-driven marketing and brand tie-ins. It's interesting that, while we were dealing with a myriad of COVID-related concerns during the pandemic, numerous social justice and other causes were gaining traction at the same time. At OpenSponsorship we are constantly expressing our CSR commitment rather than just putting money into people's pockets.
3 ways how we are a platform of choice when it comes to our 'social commitment'
For starters, the long-term nature of most sponsorships allows for long-term brand building.

Second, most sponsorships include integrated marketing campaigns that include a variety of marketing methods. While we as a sports sponsorship platform include a donation component which also constitutes to our strategies.

Third, through our sponsorship platform, sponsors experience enhanced image through its relationship with the sponsored property. In the minds of consumers, the positive image of the property transfers to the sponsor. This "image transfer" will also make sponsorship an effective platform to improve brand image via purpose-driven sponsorships.
NYC Department of Health and Mental Hygiene Campaign
This campaign is based off of New York City with the requirement of living or playing for a NYC sports Team. This government sponsored campaign focuses on the impact of COVID-19 through the lens of social responsibility. The department's mission is to partner with NYC athletes to help promote safety and deliver positive health messaging. Here is a video link of Sloane Stephens, a professional Tennis athlete talking about getting the COVID-19 vaccine and encouraging her followers to get the vaccine as well.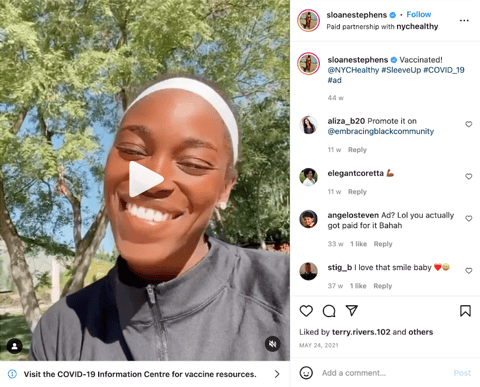 Click image to watch the full video
COVID-19 Campaign in Texas
This is a campaign to bring awareness around COVID-19 to increase public awareness around staying safe and healthy in Texas and elsewhere. Athletes like Jennifer Fisher (Marathoner), Robert Griffin (American Football Athlete) and several others volunteered to strike a deal with OpenSponsorship to help promote safety protocols against the widespread pandemic. They effectively shared messages revolving around topics such as hygiene, sanitation and ideas for social distancing. Check out this crazy video from Montana Delarosa a former UFC Flyweight champion talking about ways to enforce social distancing.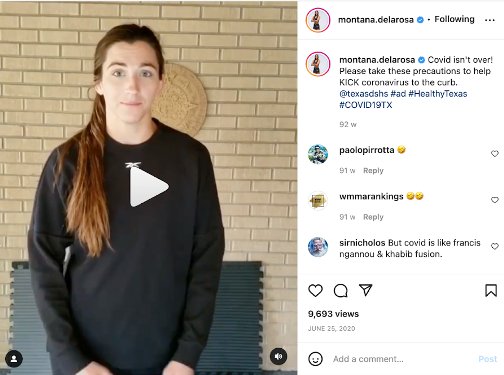 Click image to watch the full video
Another brilliant post from Derrick White, a professional basketball player re-enforcing COVID-19 protocols with the audience and how essential it is to stay safe and healthy during the pandemic.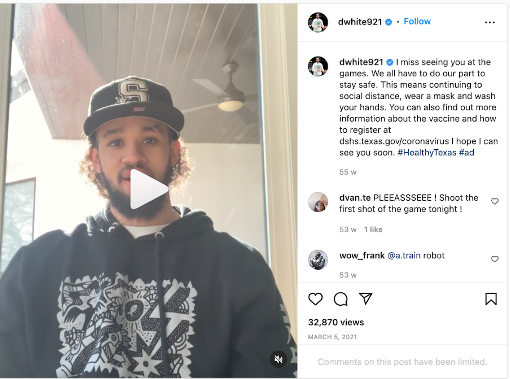 Click image to watch the full video
We have also struck deals and continue to, with athletes in our other campaigns such as the Vapes Down Campaign wherein we partner with athletes who are willing to lead a healthy lifestyle by delivering an anti-vaping message to consumers by educating them on the harmful impact of their actions. Next, we also launched a Texas Road Safety Campaign which incorporates Texas-based/Texas team athletes who are willing to assist in boosting road safety awareness. The motto of this campaign is to emphasize on tips and practices for one to drive safely to limit the loss of lives.
Brands looking to project a socially responsible image by sponsoring a sports team or an athlete should take into account the relevance of perceived fit between their brand and the sponsored since it is a key predictor of CSR perceptions.
Tags: