It's no secret that the Super Bowl has been a center-stage for brands to debut entertaining commercials spotlighting new and old products alike. The latest cost to run one of these 30-second ads? Five million dollars.
Of course, any cost can be justified when the ROI is clear. Problem is, when digging into the ROI of these ads … things get a little murky. Different agencies have tried to explore the ROI, and the best metric one can even come by is "brand lift" - in other words, how likely is it that someone would recognize your brand's name post-game. We get nowhere near answering questions such as:
Did it resonate with viewers positively or negatively?
How likely were viewers to buy your product?
Did you pick the right influencers to be featured?
It's a simple game of will they know you exist in the world.
For many household names, this brand lift isn't even the goal, so instead it's a viral marketing opportunity to make a statement or drive engagement on social media. And that type of investment for pure entertainment value is simply not enough for most businesses on a budget.
So instead, we decided to look at all the different ways you could spend your sports marketing budget without dropping $5 million on a single Super Bowl - not including the cost of production! In fact we found five smarter ways to spend $150,000 (just 3% of what it costs to run one Super Bowl commercial).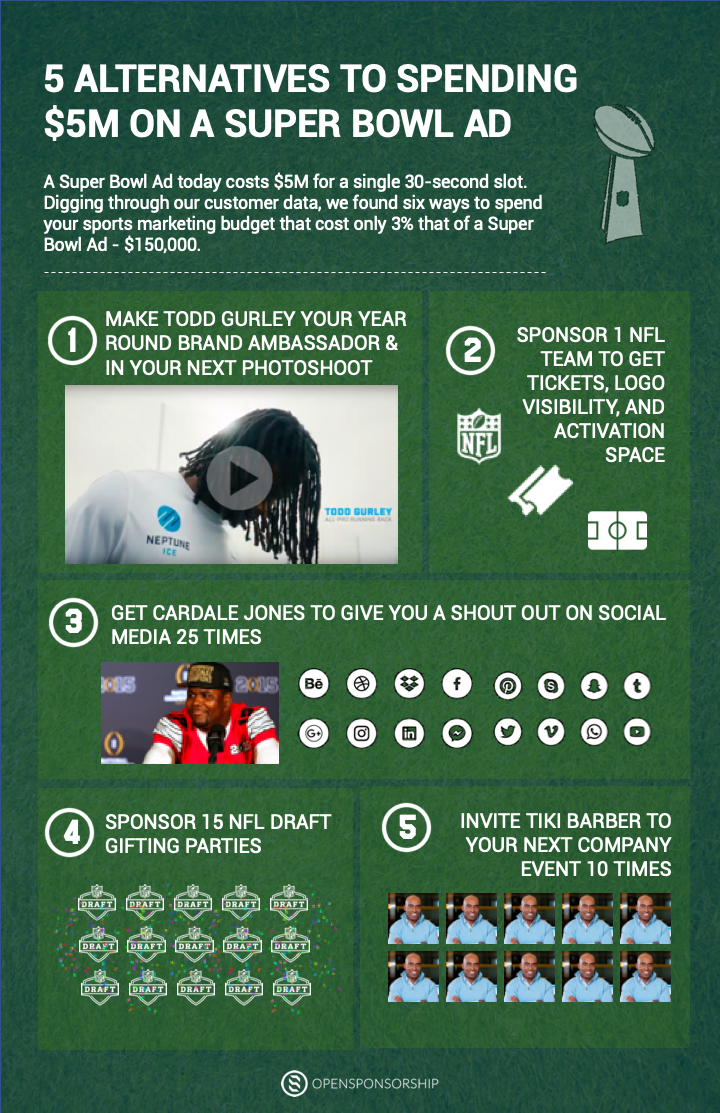 These aren't just made up figures, either. At Open Sponsorship, these are the types of sports marketing campaigns we help you run by connecting brands with the right athletes for your influencer strategy.
And unlike a Super Bowl ad, we'll get you the ROI you need. We work to ensure:
You can quickly and easily access athletes with over 4,000 in our database.
We'll experiment to find which athlete's audience is best to optimize for your sales.
You actually know how your campaigns impact your bottom line.
Sound too good to be true? Click here to sign up and start seeing for yourself.