Our OpenSponsorship athlete of the week goes to Ryan Jay Owens, standout beach volleyball star hailing from Huntington Beach, California! Congrats RJO! Ryan has played for team USA and is a pro indoor and beach volleyballer living between Southern California, USA & Europe (mostly) and playing around the globe since 2002. In 2005, he began a sports agency services mostly pro volleyball athletes globally called Elite Volley Agency, helping professionals find teams worldwide and foreign student-athletes find USA schools.
Ryan is one of the most active athletes on our site checking in daily & applying to all the campaigns he finds interest in. I have to say, his pitches to our brands are impressive and there's no confusion as to why he's already closed two deals in the last two weeks. The first deal was with Hint Water, and the second with MaxPreps. Lately, he has started a couple new projects which aims to empower all athletes worldwide but especially student-athletes called Elite Sport Students and the Beyond Athletic Podcast. The podcast has been heard over 30,000 times in over 80 countries. That being said, it was a no-brainer for MaxPreps to go with Ryan for their Athlete of the Month event on May 10th.
MaxPreps posted a campaign on our website with the headline "Are you a current or former professional/college volleyball player who wants to make an impact on a young athlete's life?" These words jumped off the computer screen for Ryan as someone who loves to inspire and empower student athletes. He applied to present the athlete of the month award to a high school volleyball player in Chicago and was accepted virtually overnight as the "perfect fit." They came to an agreement at $3,000 + all travel expenses covered for him to come out, give a few hours of his time, and present the award to the lucky volleyballer.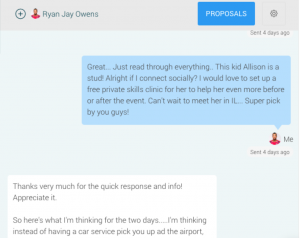 It didn't end there. Ryan then took the initiative to personally reach out to the recipient of the CBS award via social media. Check out the picture below, some really cool stuff from a real standup guy.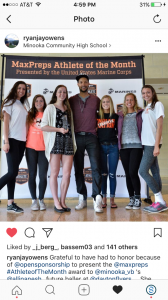 And that's not all. Ryan enjoyed his time in Chicago so much, he decided to run a skills clinic with of Allison's volleyball team.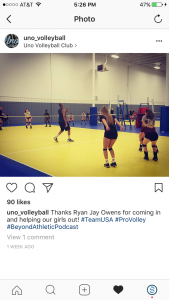 "So happy to have been shared an opportunity to work with different brands on opensponsorship.com by a great friend and former Team USA teammate, Dustin Watten. I get to leverage my social media network for good beyond myself! Beyond the cool products so far, I just got to honor, connect, and mentor a fellow volleyballer at the junior level. Can't wait for what's in store for future proposals and offers. Athletes needed what you've provided here without a doubt!" -Ryan Jay Owens