Let's start this off by saying that I'm sure all of OpenSponsorship's athletes have their own unique style and just because I chose these people in specific as OpenSponsorship's Top 4 Most Fashionable Athletes, does not mean it was an easy decision. It also does not mean that my opinion should be taken as fact, because, well, I've worn the same pair of beat up Adidas sneakers for 4 years now so what do I know? Anyway, now that we've gotten past the disclaimer, let's get to it.
Our Top 4 Most Fashionable Athletes are people that not only rose to the top of their professional field and dominated in their respective sports, but looked good while doing it. Whether its a ripped t-shirt worn before a game, a suit worn during a post game press conference, or a dress worn during the ESPYs, they know how to throw together an outfit. So if you're looking for an athlete to sponsor and partner with your growing clothing brand, you should do whatever humanly possible to get these 4 athletes wearing your stuff, and then check out the rest of the 3500 athletes on OpenSponsorship for some more affordable options :)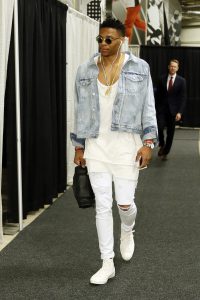 Now this list wasn't even supposed to be in order, but it would feel wrong mentioning anyone except Russell Westbrook first on a list of most fashionable athletes. His combination of boldness, creativity, and innovation with his daily outfits are virtually unparalleled in the world of sports. Sure, his style is certainly not for everyone, but if you can pull off this look, you should.
Sponsorship tip: Gift Russ 5 different items and let him throw them together with his unique style, we find Instagram stories are great for this, because the fans can just swipe up and buy!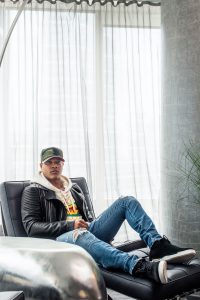 Although Marcus Stroman does not have the fashionable notoriety of Russell Westbrook he does have undeniable style. Not only does he have his own apparel brand HDMH ("Height Doesn't Measure Heart") but he also finds a way to make nearly every outfit look good, as seen in the ripped jeans and designer jacket above.
Sponsorship tip: Invite Stroman to your newest store opening, with his charm and entrepreneurial sense, he's sure to bring in a crowd thus increasing store sales on the day.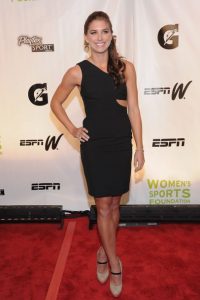 Honestly there was no way Alex Morgan wasn't going to make the list for our most fashionable athletes. She can pull off a $1000 dress just as easily as she can pull off a muddy soccer uniform. If you're a clothing brand of any kind wondering, "would Alex Morgan look good wearing my products?", the answer is almost definitely "yes".
Sponsorship tip: Include Morgan in your next photoshoot - her face, style and sporting accolades on your website homepage will be sure to reduce bounce rates and increase conversion rates.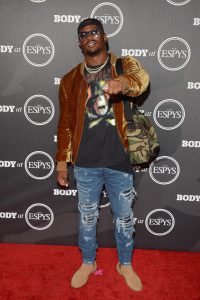 Last but not least, this list would not be complete without Von Miller. Arguably one of the most fashionable players in the NFL, Von's outfits never fail to impress. Sometimes he's in a floral suit, sometimes he's in jeans and a cowboy hat, but he's always stylish. And let's not forget about his trademarked glasses.
Sponsorship tip: Gift Von Miller clothing, accessories or shoes to wear during his next press conference or awards show - the media attention will be on your gear and you can reuse those images across all your own sales and marketing!
If you're trying to build brand awareness, drive sales or generally just market your clothing brand, fashion accessory line or shoe brand and you haven't tried to get athletes to wear your products, you should get on that ASAP. Just one public appearance from any of these 4 or any of our other awesome athletes while repping your gear, or a social media post featuring your products, and you'll be the talk of the sports and fashion world for weeks. Sign up for free to OpenSponsorship.com today to learn more.