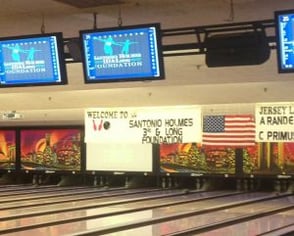 On our large flat screens on a Sunday, NFL players are viewed as stars that we aspire to be like. We as fans are typically unaware of their personal lives. One way to raise money for foundations and to gain sponsorships is by having local events. Local events allow local brands, businesses, and fans the chance to connect with professional athletes. Previous Pittsburgh Steeler, Chicago Bear and New York Jet Santonio Holmes let his fans in on his personal life. His son has been affected by sickle cell disease. He runs the Santonio Holmes III & Long Foundation to help support research.
While being an active player for the New York Jets, Holmes created a bowling event where local fans had the opportunity to meet Holmes along with other teammates. These fans were given the chance to bowl with amazing athletes while meeting many vendors. I had the opportunity to attend this event and find out more about sickle cell disease and meet many companies looking to sponsor athletes. While at this event there were many opportunities for fans and players to meet companies and spend time bowling for a great cause.
I had the opportunity to speak to most of the athletes on the Jets and all were willing to come out for this cause. I had the chance to meet a few of OpenSponsorship's own athletes such as Dee Milliner and Muhammad Wilkerson just to name a few. Local brands looking to sponsor professional athletes could attend events such as this one to meet and connect with these players.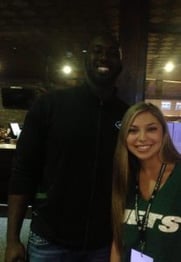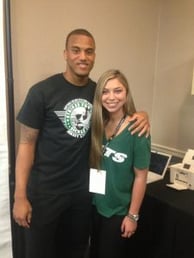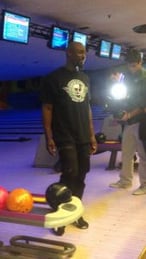 This is just one example of a professional athlete staying local and getting his community involved. At this event companies were present such as food vendors and apparel companies. Professional athletes could attend more events such as this one to connect with brands. Brands are encouraged to attend events such as Satonio's to engage with athletes.
Interested in more information? Visit http://www.thirdandlongfoundation.org