In the past, we've covered why you should invest in sports sponsorship and how to handle those sponsorship deals effectively. Today we want to present you with actual examples of what this looks like to inspire your own influencer marketing strategy.
1. Glassdoor + Draymond Green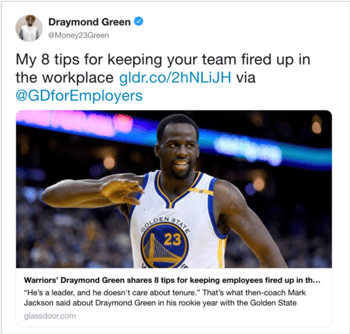 Glassdoor reached out to Draymond Green in order to increase traffic to their website. Glassdoor and Draymond worked together to create a campaign that alludes to Draymond's Fiery on-court demeanor.
Draymond shared the resulting article with his 1.2 million Twitter followers, which resulted in a 952% increase in Twitter referral traffic for Glassdoor. This was one of our most successful athlete sponsorship deals because Green and Glassdoor worked together to create a campaign that both parties were excited about. The campaign was very successful for Glassdoor because of the massive uptick in traffic to their website.
2. Intel + Rob Gronkowski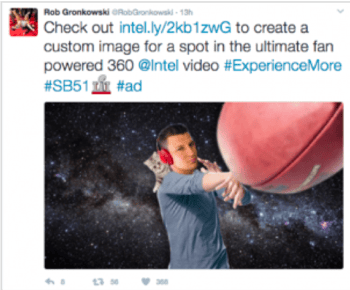 Intel had a goal to capitalize off the excitement surrounding the Super Bowl in order to bring awareness to their new 360 video feature. Intel used OpenSponsorship to create a successful athlete sponsorship with Super Bowl participants Rob Gronkowski and Donte Stallworth.
They used the new feature to create awesome content that Stallworth and Gronkowski not only enjoyed, but agreed to post on their social media accounts. The campaign was a very successful sponsorship and reached over six million social media accounts.
3. Max Preps + Ken Duke
MaxPreps's successful athlete sponsorship deal partnered with the US Marines to deliver awards to some of the nations best high school athletes. MaxPreps decided to use our platform to find athletes to present the award. This was a successful athlete sponsorship deals because it created great publicity, brand awareness, and content for MaxPreps and the Marines. Ken Duke and other OpenSponsorship athletes were very supportive of the campaign and were happy to present the awards.
4. Jabra + Joe Webb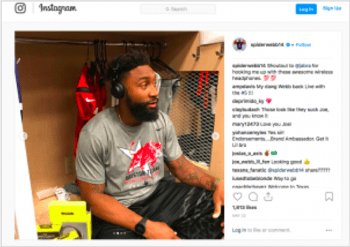 This sponsorship deal between Jabra and Joe Webb was a very successful sponsorship deal because the athletes were so passionate about Jabra's product that they agreed to do the endorsement for product only.
Jabra asked Webb to create the post in the locker room but gave him the freedom to design the content. Joe Webb was happy with the products he received. Jabra was happy with the success of the sponsorship deal.
5. 2nd Skull + Brian Quick
In this case, 2nd Skull wanted to create a display for a big sports retailer that can compete with the other displays in the store. This athlete sponsorship deal was successful because they worked with us to book NFL athlete Brian Quick to be the face of their brand. The result was an extremely professional looking display that was featured in hundreds of sporting goods stores across the US.