Looking to make a quick buck? All you have to do is create a sport, and have it become America's greatest past time. Sounds easy right? The MLB as a whole is thriving when it comes to sponsorship revenues. In 2016 it was estimated that sponsorship dollars from the top 9 companies involved with the MLB would reach $360-400 million. This number is solely league revenue and does not include individual team and stadium/property sponsorship. When adding those categories to the grand total, it is estimated sponsorship revenues would reach nearly $800 million by the end of the 2016 season.
The 2016 MLB season was a year of tremendous growth. League sponsorship activation and renewal is up from the previous year by nearly $120 million. Commissioner Rob Manfred made a strategic play in labeling all of the MLB's assets as "One Baseball." His idea was to put television rights, online media, and the traditional business of the league for sponsorship under one umbrella. What does that mean? Basically if you are a sponsor of the MLB, you now have access to every platform in which they control, including the MLB Advanced Media, a huge online streaming service.
Lets take a look at some companies that are leading the sponsorship push for Major League Baseball.
Chevrolet
The American motor company Chevy has been involved in MLB sponsorship since 2005. Just last year they renewed their sponsorship with the league, continuing their partnership as Official Vehicle of Major League Baseball. Aside from that, they are also the Official Automotive Sponsor of the MLB and USA Baseball's Play Ball initiative.
"Chevrolet's partnership with Major League Baseball is a natural fit and allows the brand and our dealers to connect with generations of Americans on a personal level through the support of hometown teams at both the professional and youth levels," said Paul Edwards, U.S. vice president of Chevrolet Marketing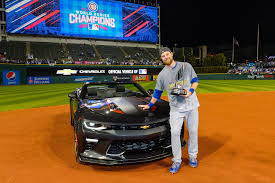 Not to mention, they gifted a pearly new 50th Edition Chevrolet Camaro to the 2016 World Series MVP, Ben Zobrist.
New Era
The headwear company New Era has been producing on-field team hats since 1939. Come 1993 they became the exclusive on-field cap of the MLB and have been ever since. Prior to the 2015 season, MLB reached an agreement with New Era extending their exclusive hat rights through the 2019 season.
Taco Bell
MLB sponsorship partner since 2004, Taco Bell has been running creative and engaging campaigns for the loyal baseball fan base. For the 6th year straight, Taco Bell activated its "Steal a Base, Steal a Taco" promotion. The deal is as follows, for every stolen base in the World Series, the deserving (IMO) citizens of the US are able to "steal" a taco. If you don't like free tacos, what's your deal?
Partner with one of our MLB stars
Gary Sanchez had a record-breaking rookie season with the Yankees in 2016. Belting 28 homeruns in just 53 games, he is widely considered one of the most exciting players to watch in baseball. Every time he gets to the plate, and behind it (catcher) you expect something extraordinary. Here's an athlete that has been extremely active in player appearances since his come to stardom. Want Gary to come to your event or training facility to attract new customers? Lets set it up. #ElGary
Gleyber Torres ranked the no. 1 prospect in the Yankees organization right now. Gleyber has tremendous potential with his quickness and abilities at the short-stop position. This is another one of our young guys that we expect will do great things over the next few seasons. Get him while you can!