More and more, we're seeing the power of sports sponsorship come to life. For some, this means influencer marketing campaigns where athletes promote the brand on their social media in exchange for a free product or service. For others, this can be paying a major athlete for endorsing their product or service in an advertising campaign.
The ultimate partnership? When an athlete is so invested in a brand they commit to a long-term relationship. We're seeing this trend grow as more athletes take on the model of investing in companies while the startups in turn pay that athlete to become a brand ambassador -- often in the form of equity or board seats, further solidifying the long-term commitment to success.
What does this model look like in action? Here are four examples.


Papa John's and Shaquille O'Neal
Just earlier this month, Papa John's announced that NBA Hall of Famer Shaquille O'Neal would be joining the company as a board of director and investor in nine Papa John locations.
Shaq's announcement on Twitter alone resulted in thousands of eyeballs. Given his role in the company, he will not only be vested in their success, but continue to use his large and loyal following to drive interest and endorsements back to Papa John's for years to come.
---
SurveyMonkey and Serena Williams
In 2017, tennis athlete and champion Serena Williams joined the board of SurveyMonkey, a consumer survey startup. Since joining, Serena has time and time again used her Instagram to share updates on not only her tennis and athletic career, but on SurveyMonkey's journey. This reinforces constant endorsement and excitement for the company with her audience, keeping SurveyMonkey top of mind for them.

---
Roar Beverages and Odell Beckham Jr
Even earlier in 2015, NFL star Odell Beckham Jr invested in Roar Beverages, resulting in a national advertising campaign featuring a drink named after him.
Not only did Odell's investment help the company launch a new line of business, but his fanbase became regular purchases of the Roar brand due to their loyalty to the player.
---

RingDNA and Kobe Bryant
Just last year, Kobe Bryant took part in a $30 Million funding round for RingDNA, an enterprise sales management platform. The bast part of this engagement? This wasn't the first time Kobe invested in the company.
Kobe's relationship started with an investment in 2016 through his Bryant Stibel fund. This is the perfect example of how this form of partnership with an athlete can be valuable long-term. Kobe's commitment continues to benefit the company through multiple rounds of funding, of course contingent upon the company performing well. In addition to the funding, Kobe's reach and credibility will continue to help the company.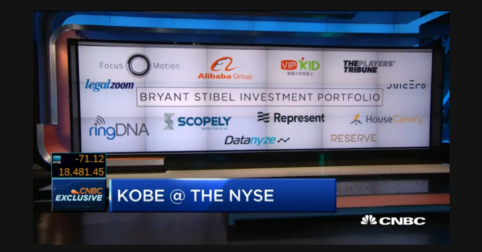 In a CNBC interview, Kobe said, "There's no greater feeling than actually helping entrepreneurs be successful, and helping their dreams come true."


---