OpenSponsorship is the world's largest and smartest digital marketplace, our tech-platform has created and closed thousands of partnerships for our community of 12,000+ professional athletes and brands, who are looking to for authentic marketing relationships.
Meet Charles Turner, Head of our U.K. Team !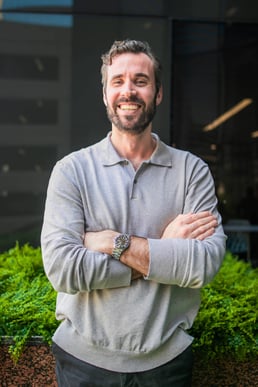 Charles is head of our U.K. Team. He has done some amazing webinars with brands in the finance industry and talking about hot topics such Cryptocurrency, NFT's for athletes & Web3. Aside from his extensive knowledge about the finance industry he is an expert with the EMEA region. In our most recent webinar with Sportcash One, Charles talked to Andrew Lubahn, COO of Sportcash One about athletes for NFT's.
Prior to his role as Head of U.K. for OpenSponsorship, Turner co-founded Neat Nutrition, an award winning plant-based protein and whey powder brand based out of the U.K. with his fellow British Swimming teammate, Lee Forster. He has broad experience across sales, partnerships, and brand marketing, both as a brand owner and formerly representing some of the most recognisable rights holders in the entertainment industry.
Let's take a look at our very first NFTs webinar !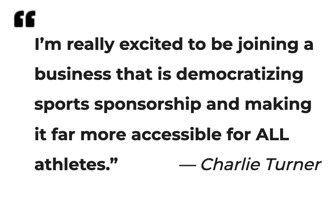 An Interview with Charles Turner
1. What do you love best about OpenSponsorship?
As a former struggling athlete, I love the fact that OpenSponsorship creates brand partnership opportunities with athletes of any status and from any sport. We can have a huge impact on these lesser known athletes by providing them something as simple as free products (like supplements or kit) to help with day-to-day training. We now also know that these athletes tend to have really high engagement rates and have genuine influence over their followers, helping brands to quickly build authentic communities.
If you had to spend a day in any athlete's life who would it be and why?
The Olympic Games has alway been special to me having had two parents that competed as swimmers in the 1968 and 1972 Games respectively. As a former swimmer myself, seeing what Michael Phelps did at the Olympic Games in Beijing was remarkable and it would be amazing to experience the jubilation of one of those closely fought gold medals.However I'm a terrible, terrible golfer and I'd love to play one round like a pro - so maybe Rory McIlroy or Tiger! Imagine not losing 5+ balls and hitting every bunker on the course!
Since you're the head of our UK team, what excites you about our European market?
After a couple of tough years sport is back and it's more emotive than ever! For the UK in particular we have some amazing events on home soil, like the Commonwealth Games, Women's UEFA Football Championship and evergreen events like Wimbledon, which create an opportunity for brands to capitalise on the halo effect competing athletes bring to a product or service.I also love the diversity of the brands we work with having already collaborated with businesses in the Nordics, Germany, Netherlands, UAE, India and of course the UK, on a range of briefs all entirely unique to one another. It excites me that we can impact sales and marketing efforts in so many different ways via athlete marketing.