Although professional athletes may seem like distant celebrities, they actually have a lot more in common with regular people then you may think. That includes the love of man's best friend. Dogs. Or just pets in general.
During the quarantine everyone has been stuck home either by themselves or with their families, (which they may be getting sick of quickly) so a lot of people have been spending time with their pets as an escape from the challenging reality. Athletes aren't acting too much different as a lot of them have taken to social media to show off their furry friends, some even creating accounts for their pets.
Whether you are a brand that is targeting pet owners as your audience or you are just a regular person who likes to spend time with their pet and unwind at the end of the day, this list of athletes and their pets will definitely strike your interest. All of the following athletes are on the OpenSponsorship platform.
Top 10 Athletes Influencers with Pets:
10. Belen Mozo
Belen Mozo is former LPGA professional golfer from Spain. Belen loves posting about her active lifestyle with her 3 dogs (one recently adopted from the streets of Bogota, Columbia).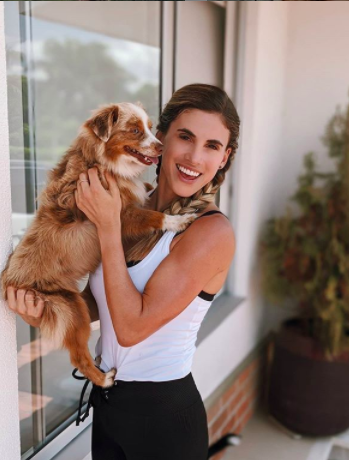 Belen has approximately 99.1k followers on Instagram (@belenmozo), and is very active when it comes to posting, whether it is about fitness, golf, her dogs, or whatever she is currently into. Belen is a very marketable athlete and loves to show off her 3 dogs.
Anthony Castonzo is an offensive linemen in the NFL for the Indianapolis Colts. Castonzo is known for his light hearted humor and incorporating it in everything he does. This does not fall short when it comes to his instagram handle (@mr._poop_iii), where the majority of his pictures are of his dog, Charles.
Here you can see his humor with a post for a fake PSA from the "CDC" (Charles Dogs Communications), showing his love for Charles and care for others during the ongoing pandemic.
Maddy is a member of the USWPL (United States Womens Power Lifting) World Team. Maddy is also a strength coach and an active Instagram user, where she shows off her dog Benji, along with her powerlifting skills.
Maddy has a great following on social media that she continues to build on, her instagram account boasts over 300k followers (@maddyforberg). Maddy posts a lot of gym training and compelling content frequently on her Instagram and even has an Instagram account for her pup Benji with almost 2k followers (@benjidoodledog).
7. Robin Lopez
Robin Lopez is a professional basketball player for the Milwaukee Bucks in the NBA. Robin has been widely regarded as one of the top 'big men' in the NBA since he started his career in 2008.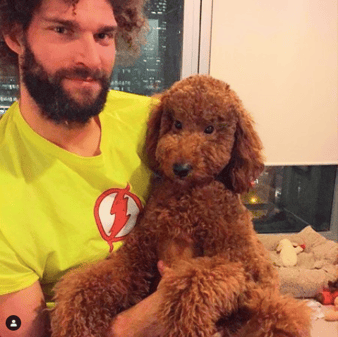 Robin has a great following of loyal NBA fans on his Instagram account (@gustogummi88) with 170k followers. He post frequently and loves to show off his dog Muppet in various videos. Here you can see Robin and Muppet doing their own rendition of the famous dancing scene from Patrick Swayze's "Dirty Dancing".
Brendan Ayanbadejo is a former NFL and CFL player for thirteen seasons, as well as a 2012 SuperBowl winner with the Baltimore Ravens. While he played in the NFL Ayanbadejo earned his MBA from George Washington University showing his grit and determination to always better himself. Ayanbadejo is very active on social media since his retirement posting workout routines, pictures with family, and of course pictures of his adorable dogs under his story highlights 'Dog Pound'.
Ayanbadejo can be found on Instagram at (@brendon310) with 43.1k followers. If you take a glance at his Instagram its easy to see Brendon is very high energy and is always trying to find ways to better himself.
Gus Kenworthy is a British-American freestyle skier, actor, and YouTuber. Kenworthy is known for his outgoing personality, as he enjoys making video content on his YouTube channel (over 50k subscribers) or on his various social media accounts. Kenworthy is known for posting content with his adorable pups as well as videos with them on his YouTube channel.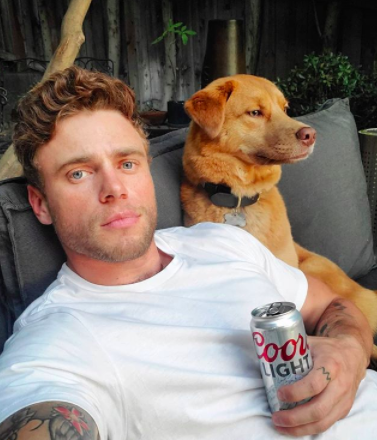 Kenworthy boasts over 2.1 million followers on his Instagram account, where he post frequently with his dogs. Gus can be seen kicking back with a beer here with his famous pup, Birdie, that he rescued during the 2018 Olympics from a Korean meat farm. Birdie had a huge rise to fame after being adopted by Kenworthy and now shows off 126k followers on his own Instagram account! (@b_pups)
Kenworhty's passion passion for all animals and caring for his pets shines brightly through all of his social media accounts.
4. Zach LaVine
Zach LaVine is a star NBA player for the Chicago Bulls as well as a two-time Slam Dunk champion. LaVine is a well-known basketball player who loves spending his free time with his pup, Grizzly. Recently LaVine posted a viral Instagram picture of him proposing to his long time girlfriend with Grizzly sitting front and center. Here's some more content of LaVine and Grizzly that received a ton of attention of them playing 1v1 basketball.
LaVine has an impressive following on Instagram with 2.1 million followers (@zachlavine8). LaVine often posts stories and pictures with Grizzly, but Grizzly has found his own stardom having a separate account with over 11k followers (@grizzlysworld). Grizzly basically has his own fan club with over 11k followers.
3. Rose Lavelle
Rose Lavelle is an American professional soccer player for the Washington Spirit of the NWSL and the United States Women's national team. In additional to being an amazing soccer player and a world cup champion, Rose Lavelle loves to spend time with her bulldog, Wilma Jean Wrinkles.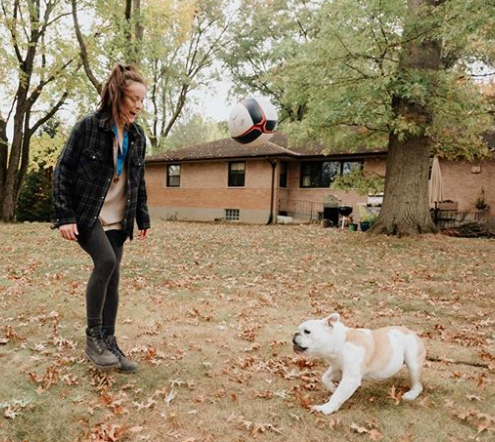 You can find Rose on Instagram with 473k followers at (@lavellerose) posting her collabs with Chipotle or just enjoying her free time with her Wilma Jean. Wilma Jean is actually so popular that she has her own Instagram account with 11.9k followers (@wilmajeanwrinkles). Wilma Jean is a star in her own right with her own account, often posting pictures of her beautiful smile for the world to see.
Elena Delle Donne is a famous WNBA player for the Washington Mystics. Delle Donne helped to lead the Washington Mystics to their first WNBA Championship in 2019. Elena loves posting content of her dog, Wrigley Delle Donne, to her social media as well as creating her own content for her loyal followers, including this cooking show. Although Delle Donne is one of the most famous players in the WNBA, Wrigley is pretty famous in his own right boasting almost 40k followers on his own Instagram account (@thewrigleydelledonne). Here's Wrigley doing his own to help out during the pandemic by being a delivery dog.
Elena has a loyal following on her Instagram account of 465k followers and can be found by her handle (@de11edonne).
Klay Thompson is a NBA player for the Golden State Warriors and a 3-time NBA champion. Klay Thompson may arguably be the most recognizable name on this list, but that isn't the only reason why he is number 1. That credit goes to his handsome pup, Rocco, who is a highlight of Klay's presence on social media. Rocco and Klay seem inseparable and Klay even brought him on his episode of 'Essentials' with GQ, seen here. Klay boasts an incredible 7.3 million followers on his Instagram account (@klaythompson), but Rocco is a baller himself when it comes to Instagram amassing 57.3k followers on his own IG account!
All of Roccos posts can be seen with the hashtag #LivinLikeRocco, which Klay Thompson has coined for his pup. Rocco's Instagram account can be found at (@rocco.thompson), where he is constantly enjoying life and spending time with his best friend Klay. Their close bond can be seen all throughout Rocco's page playing basketball together, exercising together, and doing basically everything with each other.
Honorable Mention: Josh Dixon
Josh Dixon is a former Stanford University student-athlete and national champion, Team USA veteran, LGBTQ advocate, and community leader. Josh is a great example of some of the best athletes we have on our platform, always averaging 5-stars in his deals with brands and posting quality content that brands love. You can find Josh on Instagram (@joshdixon) with an impressive 207k followers. Recently Josh just got a new puppy, Otis, who is an adorable french bulldog.
Josh can be seen posing with him in many pictures on his social and Otis already has his own account (yes, I know he seems a bit young), but you can find him at (@blue_frenchie_otis).
---
All of these athletes are on OpenSponsorship, so if you have some free time go check out their profiles, see what they are up to, and reach out to connect with them and their furry friends! To learn more about these athletes reach out to an OpenSponsorship rep or send us an email at info@opensponsorship.com.