In a few weeks, families around the United States will be celebrating Mother's Day and thanking their mothers for all of the sacrifices they make every day. In the sports world, female athletes juggle their athletic careers with their duties as mothers, often even having to take time off from their sport during and after pregnancy to care for their children and get their bodies ready to go back to competing.
For this reason, athletes who are mothers can be the perfect influencers to include in your brand's influencer marketing campaign around Mother's Day. Read below for OpenSponsorship's Top 10 Instagram influencers who are athletes and mothers and about the sacrifices they have made for their families. They deserve all the love coming their way this Mother's Day!
10. Glory Johnson
Glory is an 8-year WNBA veteran currently playing for the Atlanta Dream. In 2015, coming off of her second straight All-Star appearance, she announced that she was pregnant and would be sitting out the entire 2015 season. In October 2015, 4 months before her due date, Glory gave birth to her twin girls Ava and Solei.
It is common for WNBA players to play internationally to make extra money during the WNBA offseason, and things were no different for Glory. When she was playing overseas in countries like Russia and China, her mother and sisters cared for her children. This was becoming increasingly difficult for Glory and, after two seasons of playing overseas after her daughters were born, she decided to return home.

Glory and her children Solei, left, and Ava, right, in their bedroom (Louis DeLuca/The Dallas Morning News) (Louis DeLuca/Staff Photographer)
In May 2018, Glory purchased her first house for her and her two two-year old daughters. In an interview with the Dallas News, Glory said, "Having to do it all by yourself is really, really tough. Pulling all-nighters trying to get everything done before the babies come was tough, especially through training camp, but it was all worth it." Glory set up bedrooms and a jungle-themed playroom for the girls, equipped with a projector on the wall, jungle green chairs, a grassy floor and a tree on the wall made of pool noodles, and, of course, a giant pink dollhouse.
9. Montana De La Rosa
Montana De La Rosa and her husband Mark, both UFC fighters, are also parents to their 9-year-old daughter Zaylyn. Montana and Mark are the only married couple to be signed to UFC contracts at the same time, but that has taken anything away from their jobs as parents. Zaylyn is following in her parents' footsteps in the family business, too- she is currently the Texas state champion wrestler in the open division, which is nearly all boys.

Montana and her daughter Zaylyn preparing a snack. (Cooper Neill, ESPN)
Montana got pregnant with Zaylyn in high school and had to give up an opportunity to wrestle at Oklahoma City University, the 4-time consecutive national champions. She met Mark in 2014 when Zaylyn was 3 and got married two years ago. Their schedules are now mapped out entirely, full of responsibilities as both fighters and parents. In an interview with ESPN, Mark said, "She's a supermom. When I'm 100% into training, I come home and do house stuff here and there. She'll go into the gym and be a professional athlete. As soon as she's done at the gym, she puts her mom hat on. She's a good fighter, good wife, good mom." Montana made the decision to put her career on pause as only a teenager, which is tough to swallow for most that age. However, now, she couldn't be happier. Her career is on the rise, she has an incredible husband, and her daughter is poised to follow in her footsteps and have a career in the UFC as well.
8. Bec Rawlings
Bec Rawlings is an Australian MMA fighter and mother of two young boys. Her second was born just months before her first MMA fight in October 2011, leaving her balancing caring for her two young boys and training to begin her MMA career. On top of all this, Rawlings was also stuck in a physically abusive relationship with her now ex-husband.
Rawlings lost her first fight, but bounced back after that with five straight victories. After two years of hiding her abuse, Rawlings finally filed a police report in 2012 and made the decision to leave the relationship on Mother's Day of 2013. Her past only fueled the fire for her career, and she now lives safely and happily with her two boys.
7. Lauren Holiday
Lauren Holiday is a retired soccer player who played in the NWSL and represented the United States in the World Cup and the Olympics. She was a part of the World Cup-winning US team in 2015 and also won two gold medals with the Olympic team. In 2013, she married NBA star Jrue Holiday after the two met and started dating as students at UCLA.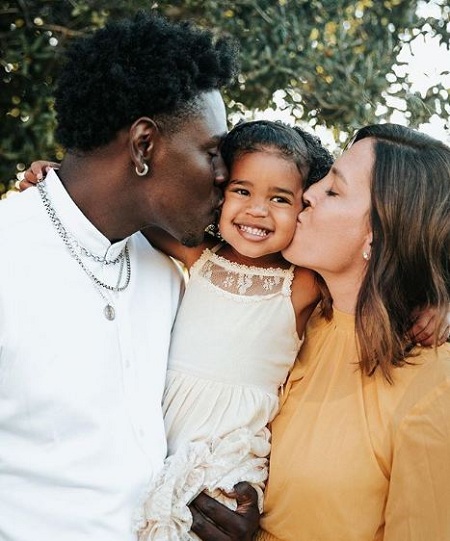 Lauren and Jrue showing love to their daughter. (Lauren Holiday/Instagram)
In 2016, shortly after Lauren's retirement from soccer and six months into her pregnancy, it was discovered that she had a benign brain tumor. She gave birth to her daughter, Jrue Tyler Holiday, in September and had the brain tumor removed one month later. After the tumor was discovered, her husband Jrue announced he would be taking a leave of absence to focus on the health of his family. In February, three months after her daughter was born and her surgery was complete, she posted a photo of her daughter on Instagram and said she "had never known suffering like (she) experienced the last six months." Three years later, the family is happy and healthy with their beautiful daughter.
6. Sanya Richards-Ross
Sanya Richards-Ross is a former Olympic track and field athlete who won four gold medals during her Olympic career. While training for the 2016 Olympics, she suffered a hamstring injury and announced her retirement shortly after.

Sanya and her husband, Aaron, and son, Aaron II. (Sanya Richards-Ross/Instagram)
In college at the University of Texas, she began dating former NFL cornerback and 2-time Super Bowl champion Aaron Ross and the two eventually got married in 2010. Shortly after her retirement, Sanya and Aaron announced the birth of their son Aaron Jermaine Ross II and has spoken extensively about the incredible positive impact that having a son has had on their lives.
5. Jennie Finch
Jennie Finch is a retired softball star who was a three-time All American in college at Arizona and a two-time medalist in the Olympics with the US National Team. Her husband Casey is also a former MLB pitcher. The two are parents to three children, sons Ace and Diesel and daughter Paisley.
Jennie's first son, Ace, was born in 2007. One year later, Finch competed in the Olympics with the US National Team and posted a 2-0 record during the competition where the US won a silver medal. This would be her last Olympic appearance, but Finch's career continued on in the National Pro Fastpitch softball league until 2010. Finch absolutely dominated in his career here, posting a 35-8 record and a 1.08 ERA.
4. Cat Zingano
Cat Zingano is a UFC fighter and the mother of one son, Brayden. In 2013, the undefeated Zingano was set to fight champion Ronda Rousey for a chance at the bantamweight title. However, a torn ACL suffered during a workout stripped this opportunity away from her and left her with a long road to recovery ahead.
Months later, in January 2014, her husband Mauricio was found dead near their home. Tragedy seemed to keep following Zingano, and eventually she decided to spend time in Thailand to recover both mentally and physically. Away from the bright lights and constant media attention, she was able to get back into shape and recover from past tragedy.
She was surprisingly released from the UFC, but signed a deal with Bellator in August 2019 to begin fighting there. Even when things seemed like they couldn't possibly be worse, Zingano stayed motivated and has a fresh start ahead of her.
3. Candace Parker
Candace Parker's name has been in the spotlight since her college days, being dubbed the player that could transcend women's basketball and become the face of the WNBA. She did not disappoint in her rookie year, taking home the Rookie of the Year and Most Valuable Player awards in the same season. Then, 6 months later, Parker made the announcement that she was pregnant.
This, of course, meant that her career would be on pause. After giving birth to her daughter Lailaa, Parker returned to the court just 53 days later and didn't miss a beat. Nearly 11 years later, she doesn't regret a single second of it.

Candace and her daughter Lailaa. (Willy Sanjuan/Associated Press)
In 2016, Parker was surprisingly left off the Olympic basketball roster. When coach Dawn Staley took over the program, she talked to Parker and tried to lure her back to be on the 2020 roster, but Parker refused. She told the Daily News, "I understand the responsibility of it now, later in life when somebody does my daughter wrong, or she doesn't feel that she was respected, I want her to have the ability and the amount of respect for herself to understand when it's time to move on."
2. Sydney Leroux
Sydney Leroux is a star soccer player for the US Women's National Team and the Orlando Pride of the NWSL. Her and her husband Dom Dwyer, another professional soccer player, welcomed their second child Roux in June of 2019. Less than one month later, Leroux was back on the field practicing with the Pride and in September, she appeared in her first match since giving birth.
She was visibly emotional on the field after the match as she was joined by her 3-month-old daughter and later described the moment in a heartfelt post on Instagram. The caption read, "I love this game. This past year was filled with so many ups and downs but I made a promise to myself that I would come back. No matter how hard that would be. It's been a long road but I did it. 3 months and one day after I gave birth to my baby girl.‬"
1. Bethany Hamilton
Bethany Hamilton is no stranger to overcoming obstacles. She has been in the spotlight since 2003 when, as a 13-year-old, she was the victim of a shark attack while surfing that nearly took her life. She survived, but lost her left arm as a result.
She was committed to continuing to surf and returned to competition in 2004, where she placed 5th in the NSSA National Competition in Australia. Her career continued into 2016 and she competed in, and won, several more events. In 2015, she and her husband Adam gave birth to her first son, Tobias, and later in 2018 they welcomed their second son Wesley to the world.
To learn more about these incredible athletes and many more and how you can sponsor them, contact an OpenSponsorship rep or send us an email at info@opensponsorship.com.