A combined 1.12 billion people around the world watched the 2019 FIFA Women's World Cup tournament. In addition, more than 260 million viewers watched as the USWNT team played with confidence, strength and unity in a 2-0 victory over the Netherlands to seal their fate as 2019 World Cup winners. The team and players have garnered respect and admiration from fans across the world and continue to prove why they deserve it: One of the many reasons why these athletes make great sponsorship partners.
Authenticity Drives Engagement
The players' success on the field, alongside their willingness to take a stand for what they believe in, has made them prominent and popular figures. Their large and loyal fan bases admire their authenticity and have an appreciation and trust in the honest content and messages they put out. While these athletes may not have the same social media following as players like Cristiano Ronaldo or Lionel Messi, engagement amongst their own followers is very high. A sponsored post like this (shown below) from OpenSponsorship and USWNT athlete Julie Ertz is highly authentic to who she is and what she values (there are shirts on the quilt highlighting her career and her husband Zack Ertz's and even a shirt that promotes gender equality). Posts like this one from Ertz are much more likely to drive engagement and higher brand recognition and sales.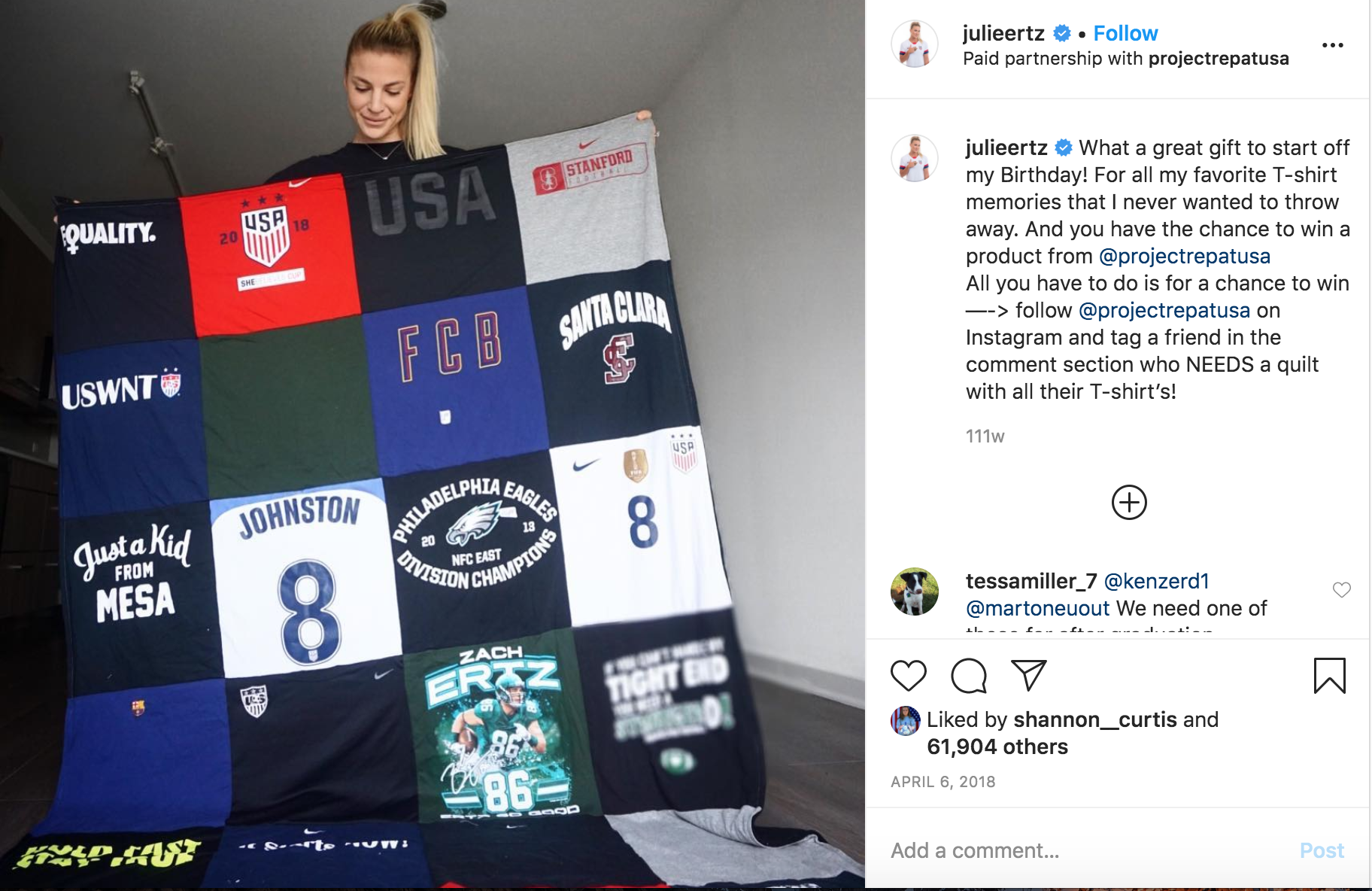 Matching Athletes to Brands Through Shared Values
Additionally, these athletes are amazing role models for women of all ages, especially young women like myself and members of the LGBTQ community. They consistently break down gender stereotypes by being the confident, skilled players that they are and refusing to accept the status quo when it is unjust. These athletes' success on the field is undeniably incredible. Combined with their willingness to stand up for what they believe in and be their true authentic selves, they are the perfect candidates for sponsorships: Especially as more and more brands are looking to make statements about their values and are using athletes to help share this message. Due to their willingness to speak up for what they believe in, even if that means being controversial at times, USWNT players and female soccer players are the perfect athletes to partner with to accomplish this.
The Ability to Genuinely Connect with Brands and Consumers Both Through Sports and on a Personal Level
As brands are increasingly trying to reach consumers through social media channels, they sometimes struggle to make the connections between the influencer and the brand feel authentic in the eyes of the consumer. Athletes such as female soccer and USWNT players who attracted their followers based on their success as athletes and who they are on a personal level, are able to make connections with brands and their followers based on the fact that they are athletes and also who they are and what they stand for on a personal level. For example, Rose Lavelle can connect with Nike as a brand and its customers based on the fact that she is a soccer player and their clothes improve her performance. However, she can also connect to Nike and its customers in an even more meaningful way through shared values of female empowerment. This makes partnerships with brands feel more genuine coming from a USWNT player or female soccer player and is likely to drive higher engagement.
If you would like to find out how your brand can partner with these amazing OpenSponsorship athletes, you can email us at info@opensponsorship.com or check out our website OpenSponsorship.com