The legalization of sports betting across the United States has created a new buzz within the sports world. Almost every major sports league has established partnership deals with sports betting companies. Nowadays, the main sponsors seen on game ads and within sports arenas are sports gambling-based companies. Companies like DraftKings, Fanduel, and Bet MGM, amongst other sportsbooks are spending large amounts of money on marketing tactics to compete within this newly competitive industry. With a hefty spending budget for advertisements and partnerships, gambling companies are making the next big push for big money into all areas of the sports world.
2022 Growth Rate
The state of New York opened up the legalization of sports betting in January and within a few months has generated more than $267 million in state income. With an additional $200 million coming to the state from the license sales of the gambling operations. To put it into perspective, in only five months that wagers have been deemed legal in New York, the state has collected more revenue than any other state. Pennsylvania has generated $253 million since November 2018, and New Jersey has generated $229 million since June 2018. The push in growth from a state like New York has opened the door to a further movement of sports gambling commercialization and marketing. Just this year alone, the Super Bowl was responsible for over half a billion dollars in legal sports bets, and the March Madness tournament accumulated $3.1 billion in the handling of legal sports bets. The revenue growth is only kicking off.
*New York State Sports Betting Handle since legalization*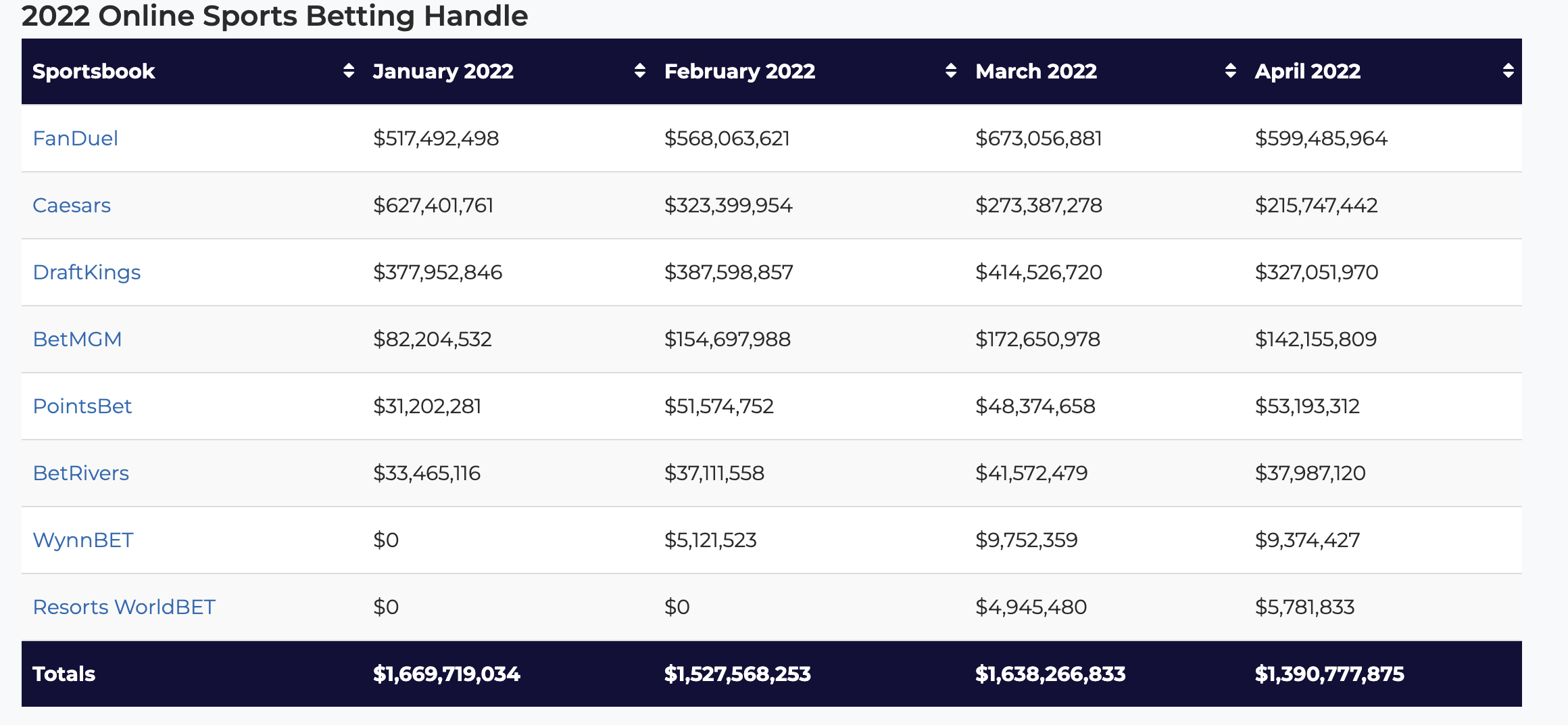 League and Team Partnerships
The modernizing approach that leagues are making with sports gambling partnerships are long-lasting and efficient at increasing fan interaction and brand awareness. MGM became the first casino-based Sportsbook to form a 3-year $25 million deal with the NBA. Thus, MGM is also the official gaming sponsor for the MLB. Caesar's created a monster deal to become the NFL's main casino and sports gambling sponsor for a reported $30 million a year.
The partnerships being formed with teams are making an impact for the growth and activation of the industry. Almost every sports team is starting to have an "official gaming partner" with one of the major companies, and is pushing to project the ads and promos within arenas and stadiums. Last year, the Madison Square Garden Sports corp who owns the New York Rangers and Knicks formed a deal with BETMGM for an undisclosed amount to form a partnership. The growth taking place in the creation of these partnerships with professional teams will continue to become more elaborate as the laws across the nation become more clear.
The Rise of Fanduel and Draftkings
Fanduel has been working to form strategic partnerships with popular sports podcasters and a media outlets such as with TNT's Inside NBA cast with the likes of Charles Barkley and Kenny Smith. Fanduel also started the first arena sportsbook lounge located in Footprint arena, the home of the Phoenix Suns. The next in-arena Fanduel will be ready at the United Center in Chicago as the growth of these concepts continue to come to life. These new additions to venues are creating a new fan experience and forming a creative way to expand the legal push happening in different areas of the country. It is also creates a new way for teams to add more revenue and drive profit on game days. Opensponsorship recently collaborated with Fanduel to create promotions with former athletes such as: Aqib Talib, Donovan McNabb, and Deron Williams. The trend in this space will allow Opensponsorship to continue the growth of forming unique partnerships that will help the sports industry grow.
*Fanduel Sportsbook located in Footprint Center, Phoenix.*
DraftKings has been making a huge marketing push with a variety of partnerships similar to Fanduel in the podcast space, influencer, and with former athletes. One of the more significant additions to DraftKings in recent years is the addition of Micheal Jordan taking on a role as a Special Advisor to the board. Gaining traction through numerous partnerships with former star athletes is creating more promotions that is enticing users to choose Draftkings and Fanduel over many of the traditional sportsbooks. Teams and leagues are working on partnering with either company due to the large market share and user loyalty being gained. An estimated 40% of the online sports gambling market share is held by Fanduel, while a near 29% is held by Draftkings.
Current Athletes and Sports Betting Partnerships:
The next major push in this space will be the rights for current athletes to partner with sports gaming companies to create sponsorship deals. Since the industry and laws are still unclear, it is currently difficult for athletes in leagues like the NBA and NFL to be a part of this push as of now. However, during the MLB lockout this past year, a new collective bargaining agreement stated that the athletes are allowed to partake in marketing and sponsorship deals with sports gaming companies, but cannot bet on the sport. Colorado Rockies outfielder, Charlie Blackmon, became the first baseball player to start a partnership in this space with MaximBet.
The new wave of sponsorship deals with sports gaming companies is opening more doors than ever for leagues, teams, former athletes, tournaments, influencers, and media outlets. With the growth in marketing spending by gaming companies and an increase in partnerships, find out more about how Opensponsorship can help form creative and strategic partnerships to bring this to life!