1. Canoe/Kayak
Canoeing and Kayaking are the summer versions of downhill skiing. There are two different types of events. The first are sprints which are purely speed races held in calm waters. The first one to cross the finish line wins. Slaloms on the other hand are not so simple. Competitors must pass through gates on their way through the whitewater course, going through some against the current, with time penalties for touching and missing gates. While navigating the tricky course, they must avoid obstacles in their paths.
The canoeing and kayaking events in Rio will be held in stadiums with artificial rivers, so the courses are custom built to provide as much of a challenge as possible. There is no lack of excitement in this high-speed sport, especially considering the threat of kayaks and canoes tipping over at any second. The impossible conditions of the course will leave you wondering how they do it.
U.S. athletes to watch: U.S. kayaker Michal Smolen and canoer Casey Eichfeld both look to medal in this typically European-dominated event.
Kayak and Canoe Sponsors: Casey Eichfeld is personally sponsored by Nike and Tide laundry detergent. Other kayak and canoe sponsors range from GoPro cameras, to Seals Sprayskirts for kayaks to Crest toothpaste.
Sponsorship fact: GE is a sponsor of the Brazilian Canoe Federation and will be using its data technology along with various sensors and heart-rate monitors to provide an in-depth analysis of an athlete's performance at the Rio Olympics.
Non-Olympic events: The International Canoe Federation (ICF) has championships and world cups throughout the year, with events taking place around the globe which you can find on their website. The Unites States Canoe Association and British Canoeing also have national events year round on their websites.
2. Archery
Archery is fairly simple: shoot the arrow at the target and don't miss. That is until you consider that archers are 70 meters (almost 230 feet) from their target, the wind is affecting the accuracy of their shot, and the fact that they must remain calm and focused while directly facing off against an opponent. On top of all that, they are only allowed 20 seconds to shoot an arrow. It is a game of precision, comparable to golf, with the added pressures of a time limit and the stare of an opponent.
In the preliminary round, archers shoot a total of 72 arrows and are given a score based on their accuracy. In the elimination round follows, the 64 competitors are sorted into a bracket based on their scores. Matches in this round consist of two competing archers shooting five sets of three arrows, alternating after each shot. Each match lasts a maximum of 10 minutes. If that isn't intriguing enough for you, tied matches are settled by sudden death overtime. Each archer shoots one arrow, and the one closest to the center wins.
U.S. athletes to watch: Brady Ellison is set to compete in his third Olympics. He has had great success in world cups, but is looking to win his first Olympic Medal. He will compete in both the team and individual events. Mackenzie Brown, the only women who the U.S. is sending, hopes to challenge the Koreans' dominance in archery.
Archery Sponsors: Archery sponsors include Hoyt Archery, Easton Archery, Solve Media advertising and technology, biPro protein, Nike, Mental Management Systems, and Pilla Technical Eyewear.
Non-Olympic events: You can find a calendar of all international archery events at the World Archery website and all U.S. events at the U.S. Archery website.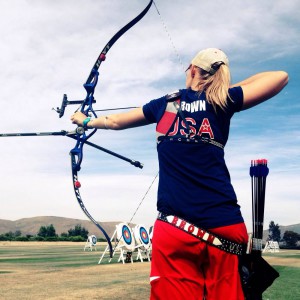 3. Fencing
Fencing. It's not hard to see how exciting it is: it is sword fighting refined to an art. Fencing is incredibly quick and strategic. While avoiding getting hit by an adversary's blade, a fencer must come up with ways to outmaneuver her opponent and avoid falling into traps. It is a back and forth sport, where momentum is crucial and leads can evaporate in a matter of seconds.
One of the ways fencing is unique is that an entire tournament happens over the course of only one day. Fencers must have amazing endurance to fight their way from the round of 64 competitors in the morning to the finals in the afternoon. That is six elimination matches in one day. Imagine playing six tennis matches on one day. In the individual competition, a match has three periods of three minutes with one minute breaks in between, lasting for 15 touches or until time runs out. In team events, each team has three fencers and the score goes up to 45. Each fencer faces all the fencers on the opposing team for three minutes or to the next multiple of five.
U.S. athletes to watch: Nzingha Prescod and Ibtihaj Muhammad. Both of these incredibly skilled women train at Peter Westbrook Foundation. Daryl Homer, another fencer from the club in New York City, will also be representing the United States. In fact, of the 17 fencers representing the U.S. at the Olympics, 13 of them fence at various clubs in New York City.
Fencing sponsors: Fencing sponsors include the obvious brands, fencing gear manufacturers Leon Paul, Absolute Fencing Gear, and Nike fencing, as well as some more surprising ones like Redbull, Visa, and American Airlines.
Sponsorship Fact: Even in this lesser-watched sport, Nike has made itself the most prominent shoe on the world stage with its Air Zoom Fencing Shoe.
Non-Olympic events: The Féderation Internationale d'Escrime is the governing body of international fencing. There are also U.S.-only national competitions every month that can be found on the US Fencing website.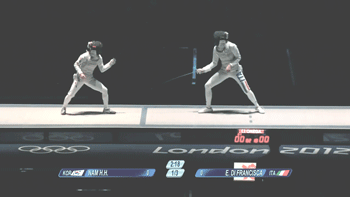 4. Water polo
Water polo is a combination of as many sports as you can think of. The basic idea is like soccer: put the ball in the net. There is a shot clock like basketball, and in the event of fouls, there are man advantages like hockey. If a player gets a major foul, they can be kicked out of the game and the team is forced to play a man down like soccer. However, unlike any of those sports, the players are constantly fighting to keep themselves afloat in almost 6 feet (1.8 meters) of water.
A water polo game consists of four quarters, each eight minutes long. There are six players a side plus a goalie. The small number of players in the pool as well as the shortness of games allow water polo to have the speed of a basketball game. The size of the goal (small compared to a soccer goal) and the frequency of shots (around 30 a game) allows the goalie to be an active and exciting player, similarly to hockey. There is also plenty of scoring to add to the action as an average water polo game score is around 10.
U.S. athletes to watch: The Unites States women's team won the gold last year, and are looking to be the first team ever to repeat their success.
Water Polo Sponsors: TYR swimsuits and gear, Mikasa sports ball manufacturer, American Pistachios, Colorado Time Systems, S&R Sports Apparel, and Malibu C Hair Care are all sponsors of water polo athletes or teams.
Sponsorship fact: Outside of the Olympics, you can buy sponsorship space on a water polo player's cap much like how you can pay a tennis player to wear a patch on their shirts, shorts and hats.
Non-Olympic events: You can find events at the Féderation Internationale de Natation (International Swimming Federation, or FINA) website, including youth competitions.
5. Badminton
Badminton requires the athleticism and precision of tennis while playing at an even faster speed. The court, which is more compact than a tennis court, and the use of an aerodynamic birdie rather than a ball accelerates the pace of the game and increases the excitement. During a game, birdies can fly at up to around 250 mph (400 km/h).
The scoring is simple: every time you win a rally you get a point, you win a game by getting to 21 points, and win a match by winning two out of three games. Like Wimbledon tennis, there are five events: men's and women's singles and doubles as well as mixed doubles.
U.S. athletes to watch: The United States has never won an Olympic medal in badminton, but they are looking to change that this year with their biggest ever badminton team. The American duo to watch is the women's doubles team Eva Lee and Paula Lynn Obanana, who are currently ranked 31st in the world.
Badminton Sponsors: Some badminton sponsors include Yonex sporting equipment, USANA supplements, Li-ning outfitters and shoes, and K&D Graphics.
Non-Olympic events: The Badminton World Federation (BWF) has tournaments around the world almost constantly throughout the year.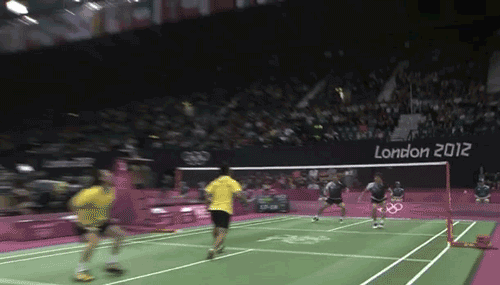 Sources:
Badminton source 1, Badminton source 2, Canoe/Kayak source 1, Canoe/Kayak source 2, Water Polo source 1, Water Polo source 2, Water Polo source 3, Water Polo source 4, Archery source 1, Archery source 2