Gatorade has sponsored the NFL since 1983. The partnership is the longest standing in the NFL.
2. The NFL made $1.2 billion in sponsorships last season (2014-2015). That's more than any other pro league in North America. The money came from new deals in 2015 with Hyundai and Dannon, as well as standing partnerships with 30 other brands including Pepsi, Verizon, and McDonalds.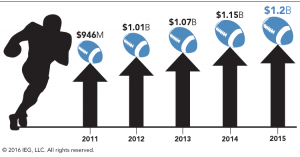 3. Odell Beckham Jr. is the most marketable NFL player, according to Sports Pro Media. The 23-year-old is best known for his catch of the year for the 2014-2015 season, as well as his personality-filled social media accounts. He is also the most followed NFL player on Instagram (arguably the best platform to promote products) with 5.2 million followers.
https://www.youtube.com/watch?v=zxbz3DDQzHU
4. Thomas Davis, has more brands sponsoring his charity, Defending Dreams Foundation, than he does himself. He is the most recent winner of the Bart Starr award (given to the NFL player that best exemplifies outstanding leadership and character on the field and in the community).

5. PepsiCo is the NFL's biggest sponsor, with sponsorship agreements valued "estimated $100 million a year." PepsiCo products that sponsor the NFL consist of Gatorade, Frito-Lay, Pepsi, and Quaker Oats.
6. NFL sponsorships are not always exclusive. Although the NFL has official sponsors, competing companies are still free to buy commercial slots during the Super Bowl. So while Pepsi is the official soft drink of the NFL, you'll still see Coca-Cola ads during the big game. Similarly, individual teams can be sponsored by brands that compete with the NFL's official sponsors. For example, while Hyundai is the official sponsor of the NFL, Chevrolet sponsors the Green Bay Packers and the Pittsburgh Steelers.
https://www.youtube.com/watch?v=32pO1cl_dpU
Bonus:
NFL player to sponsor: Reggie Bush. Independent of his NFL team, he has built a personal brand for himself. He has his own website, which includes a blog with posts written by him. He is active on social media, especially twitter. He is vocal on issues he cares about, and partnered with The Birthday Party Project to "Bring Joy to Homeless Children through the Magic of Birthdays."
https://www.instagram.com/p/BGXCoreMnBk/