Now more than ever, fan support comes in the form of online attention, and attention which can be monetised to boost your personal brand equity as an athlete. Think of dividing your personal brand into three main facets:
Everything related to your athletic pursuits, including your achievements and any distinct style or attributes you are known for.

Your current lifestyle and day-to-day appearance in public. Remember fans are constantly looking to emulate their favourite athletes.




Your 'life story' - sharing your 'roots' and some of the hardships and successes you experienced along the way to get to where you are now. Brands love utilising emotive content to better connect with fans.
With sport coming back to the fore but largely without live audiences, there continues to be opportunities to capture the online attention of fans, through the use of video streaming platforms like YouTube, Instagram, TikTok and Twitch. Fans want to know what their favourite athletes have been doing over the lockdown - what TV shows you've been watching, what games you've been playing, what meals you like cooking, and other activities and hobbies you've been filling your time with. The bottom line is share, share, share! Give fans a closer look into your life, and who you are as a person off the playing field. This can also serve to attract brands that may not necessarily associate themselves with sports, or see the value in having an athlete represent their brand.
If you want to have a bit of fun, like dancing to your favourite track, then use TikTok to get creative. Paige Van Zant is a great example to follow, as she doesn't over complicate things but keeps the TikToks entertaining by dancing together with her husband to all manner of songs. The recently released Instagram Reels is limited to 15 seconds (TikTok has a 60 second limit), and so videos have to be instantly engaging, or use it as a quick preview to a longer video you want fans to watch. Similarly, put any casual, everyday activities on your Instagram story to give fans a snippet of your daily life, and direct them to subscribe to your YouTube or website to see the full, 'uncut' vlogs. The 'swipe up' feature on Instagram can be useful as it doesn't take much effort on the part of the viewer - the only catch is that to be able to use this you need a minimum of 10k followers. Otherwise, a good alternative is to create a landing page using something like Ink.bio or linktr.ee that you can include in your Instagram bio and direct fans to other important pages like your YouTube channel, blog, podcast, and websites of brands you work with along with any unique discount codes.
Engagement rate is a key determinant for brands when they look at the return on investment from an athlete, and is generally calculated as the total number of interactions your content receives divided by your total number of followers, times by 100 to get a percentage. Put simply, its important to try garner as many interactions as you can on your content.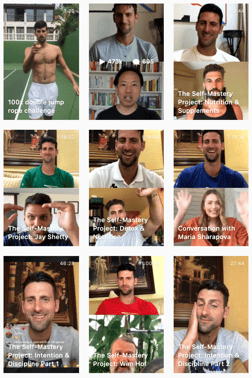 Hosting live, interactive discussions on topics you are passionate about (it may not even be related to sport) through IGTV, YouTube, Facebook and other platforms can also have a powerful impact on your engagement. For inspiration, take a look at Novak
Djokovic's 'Self-Mastery Project' series on IGTV that he ran through the lockdown pe
riod, holding hour-long discussions with various self-improvement and motivational speakers. At the end of each he would always save time for a Q&A with listeners. This is a surefire way to greater engagement with the audience, and by showing that you genuinely care about what fans might have to say, they will likely want to watch more!
Athletes are increasingly utilising YouTube to upload longer content - look to Steph Curry, Ryan Garcia and Jorge Masvidal as prime examples. Unlike Instagram posts which can often become forgotten at the bottom of someone's feed after a few weeks, YouTube videos are continually revisited. Vlogs should be simple to make and easy to watch. Sure, you may want to make things seem more exciting, but fans still value authentic, unchoreographed content. Longer form videos also give you the opportunity to go into detail about things you care about. See Steph Curry's 'Ultimate Home Championship' YouTube video (pictured below), where he brought together big name athletes and raised over $7 million in funds for the World Health Organisation's COVID-19 Solidarity Response Fund.

Your vocabulary and tone of language can be crucial in building your personal brand identity. Much like Nike is known for its slogan 'Just Do It', you should have beliefs or a motto that you stand by as an athlete. British professional boxer Anthony Yarde is well known within the boxing community for his specific phrase 'Lions in the camp', to emphasise the hard work that he consistently puts in. Although you don't necessarily have to vocalise your beliefs, it can help cement yourself in the minds of fans and the media.
These are just a few tips to keep in mind - remember you have a unique opportunity to project yourself on social media, where there are potentially millions of fans waiting to subscribe or follow you. Show genuine care and passion in creating your content, and more fans will be drawn to watch and ultimately help attract more brands to work with you.
To learn more, reach out to an OpenSponsorship rep or email info@opensponsorship.com.