Professional Sports View on CBD Products
The legalization of CBD in all 50 US states in recent years brought a flood of brands selling different CBD products, and sports sponsorship has been the most popular area for their brands to build awareness and spread information about their product. The 4 major US sports leagues have not yet warmed up to the idea of embracing these brands as partners, but other sports leagues have started to work with them. This includes the BIG3 basketball league, IndyCar racing teams, and active players in the PGA. In addition, retired players in the NBA and NFL have teamed up for great sponsorship deals with CBD brands and these players have started to lobby for CBD products to be allowed for active players to use.
The CBD Industry
More formally known as cannabidiol, CBD is the compound found in cannabis that does not give users the psychoactive effects of marijuana. Trials and experiences from users advocate for CBD as an effective treatment for pain relief. And the numbers certainly support it: a 2019 report from the Brightfield Group projects that the CBD industry could grow to as much as a $23.7 billion industry by the end of 2023.
CBD's Role in Professional Sports
However, with few opportunities available for CBD brands with professional sports franchises, the focus has had to remain on sponsoring the athletes themselves. Several high-profile retired athletes have endorsed these brands, including 16-year vet and BIG3 player Al Harrington (CEO and co-founder of Viola Brands) and NFL star Rob Gronkowski. Both have strongly advocated for the use of CBD, with Gronk raving about the pain relief benefits after 9 surgeries and countless injuries in his NFL career and Harrington saying he was introduced to the idea after seeing how it was able to help his grandmother with her pain and vision problems.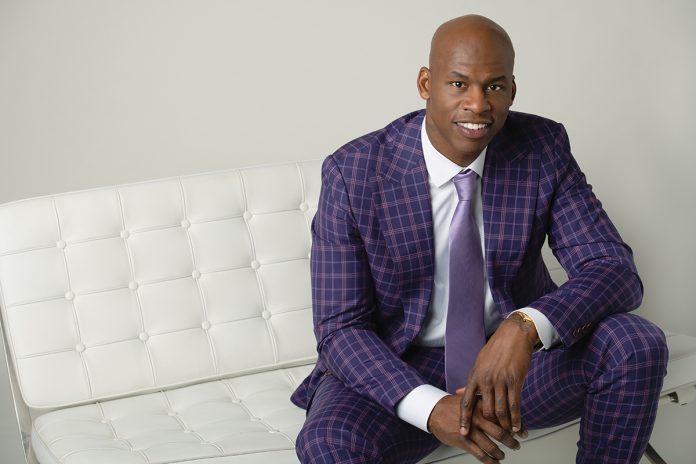 Photo: John Taylor for MG Magazine
How CBD Brands are Utilizing Athletes
CBD brands have seen sports as one of their best outlets for spreading awareness about their product and sharing the benefits that they can provide with a target audience that is relevant to their brand. Ken Cohn, chief marketing officer of cbdMD, said, "Sports are really the perfect way to begin preaching and educating a diverse audience on how CBD, holistically, represents a more natural approach to wellness. With major partners like Bubba (Watson) and the BIG3, we think we're getting the CBD brand and our story in front of millions of people in ways that otherwise we wouldn't be able to accomplish."
Jeff Kwatinetz, the co-founder of BIG3, said the league's deal with cbdMD helps support the league's mission of taking care of their players by allowing them to use CBD products and giving them access through the partnership. For a league full of older former NBA stars, this was an important objective for the league.
CBD Regulation is Professional Sports
Major sports leagues in the US have thrown around the idea of allowing players to use CBD products, with Harrington being one of several players lobbying the NBA to loosen its restrictions. In August of 2017, NBA commissioner Adam Silver told reporters he was "very interested" in learning more about the science behind medical marijuana and was very open to allowing players to use it to recover from injury and ailments. At 2018 All-Star Weekend, Harrington spoke about the benefits of CBD in a small conference, and among those in attendance were players Kyle Lowry and Trevor Ariza, then-Cavaliers coach and former player Tyronn Lue, and executive director of the Players Association Michele Roberts. The NFL has started to explore as well, with the league and players union agreeing to jointly study marijuana as a pain management tool in 2019. In 2019, the NHL Alumni Association, partnered with Canopy Growth for research on 100 retired players to test the effectiveness of CBD as a treatment for post-concussion neurological disorders.
Several CBD brands have used OpenSponsorship to partner with athletes to help promote their products and discuss the benefits, including Zoho.
Zohko CBD Products & Alexis Lete Team Up
Zohko teamed up with Alexis Lete to promote their CBD energy drink and share its benefits, with Alexis sharing how it helps her relieve stress and anxiety, and shared a discount code for people to pick up some of their own. And Alexis's followers loved it- the post saw strong engagement with over 9,000 likes.
Medterra, one of the global leaders in the CBD industry, has also worked with athletes through OpenSponsorship. They have a number of sponsorships in the sports industry, including 4-time PGA tour winner Charley Hoffman and a partnership with Worldwide Golf Shops. They use OpenSponsorship to expand their athlete portfolio, including the post below:
A two-time Olympic track and field runner, Nick Symmonds uses Medterra's CBD cream to help relieve his ankle pain that has come as a result of his long-running career. He also included a discount code and several story posts sharing the product with his followers, and the post above racked up over 4,000 likes.
Moving Forward with Marketing CBD with Athletes
Sports fans are the perfect audience to promote CBD products to, and while the major sports leagues are not currently an option, partnering with the athletes themselves is effective as well. To learn more about how you can use OpenSponsorship to promote your CBD products and enhance your marketing strategy, book a free 15-minute call with us today!