With the rise of social media in the past decade, professional athletes have been able to generate an income both on and off the field and/or court through sponsorship deals. Athletes with millions of followers can receive $50,000+ for a single post with a sponsored product. However, some athletes have it easier than others due to their large social media following, resulting in a higher rate per post. Here are four athletes who can produce a significant income from a sponsored post due to their large following on social media.
Cristiano Ronaldo
Given that Cristiano Ronaldo is the most followed athlete in the world with over 241 million Instagram followers, it's no surprise that he makes it on this list. He receives more than $1 million per post with a sponsored product. Ronaldo is also the second-highest-paid athlete in the world (behind Roger Federer, according to Forbes) with $105 million. This includes his endorsement deals, which take up roughly $45 million of his total earnings. He also signed a lifetime deal with Nike that is believed to be worth as much as $1 billion.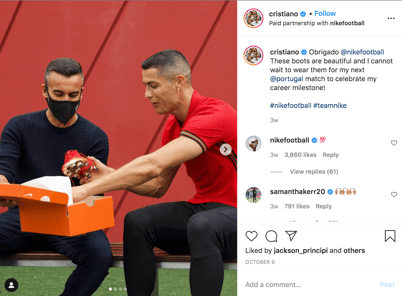 Simone Biles
Biles is one of the most well-known U.S. gymnasts in the world with her four Olympic gold medals and 10-time world championship gold medals. Therefore, she ranks as a professional athlete who can earn an income from her deals with Nike, Kellogg's, Mattress Firm, and Hershey. Not to mention that Biles has her own line of gymnastics equipment. Although it's unclear how much money Biles earns from one post with these products, it's safe to say that with her nearly 4 million Instagram followers, she can utilize her social media following to show off any product she chooses.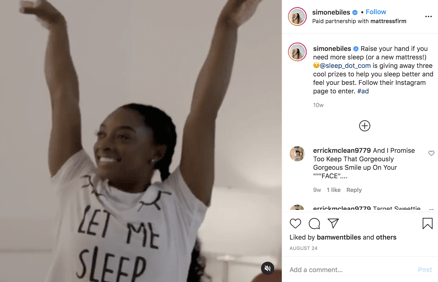 Lebron James
According to Forbes, Lebron James has the NBA's top endorsement portfolio and makes roughly $60 million just off of these endorsements. Some of his top sponsor deals are with AT&T, Coca-Cola, Nike, and Beats Electronics. He also ranks number five on the list of highest-paid athletes, only three behind Ronaldo. James has just over 74 million followers, which is not as large of a following as other athletes (like Ronaldo). However, something that sets James apart from other athletes is that he is also in the entertainment industry (he owns a production company called Springhill Entertainment). This gives him an edge with sponsors because he has a larger audience than just the sports industry. Therefore, he can earn more money when he posts a sponsored product on his social media even with fewer followers than other athletes because of his wider audience.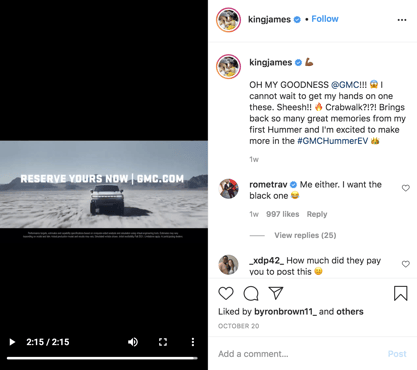 Serena Williams
In 2020, Serena Williams ranked #33 of the highest-paid athletes in the world (according to Forbes), with over $32 million in endorsement deals. A few of her sponsorship deals are with Gatorade, Nike, Beats Electronics, and JPMorgan Chase. She has nearly 13 million followers on Instagram and earns $32,000+ per post. It's important to note that Williams seemingly earns less per post than other male athletes due to the gender pay gap in sports. In 2019, she was the only female on the list and was ranked #63 out of 100. Additionally, Forbes had calculated her pay in 2019 to be $29.2 million, as well as her winnings at $4.2 million and off-the-court endorsement deals at $25 million. Even though she's made a significant jump in earnings from 2019 to 2020, there's no question that she's been making less on deals than male athletes, even though she is ranked as one of the highest-paid athletes.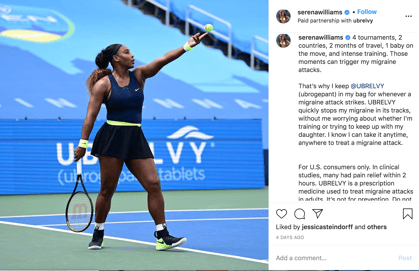 Although these are just a few athletes who can make a lot of money just through their sponsorship and endorsement deals, they aren't the only ones. With the constant rise of influencer and athlete marketing, anyone can gain a following on social media and receive significant earnings on a sponsored post. OpenSponsorship can also help; it can connect brands and athletes to make these deals happen. Check out https://www.opensponsorship.com/ to see how they can help your brand find the perfect athlete to sponsor your product!
Tags: