Promote Your Brand During 2022 Draft Season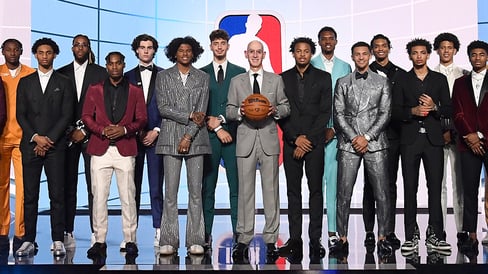 Draft season is upon us! Now is your chance to partner with next generation's top talents before they make it BIG in their respective leagues.
From having prospects use your product on draft day to being the first sponsor of a top draft pick for a long-term ambassador deal, the possibilities are endless.
Important dates to note for the 2022 Draft Season:
WNBA Draft

wrapped up this week on April 11 with Kentucky standout Rhyne Howard selected #1 overall.
NFL Draft will take place on April 28 - 30 in Las Vegas - LAST CHANCE to sponsor NFL prospects before getting drafted!
NBA Draft will take place on June 23 in Brooklyn.
NHL Draft will take place on July 7 - 8 in Montreal, Quebec
MLB Draft will take place on July 17 - 19 in Los Angeles.
Don't miss the chance to work with top prospects and potential stars in this year's draft! Check out our top 2022 draft prospects below and 5 marketing ideas on how to be involved.
5 Draft Season Campaign Ideas
Do an Instagram Live with the athlete and a lucky customer on Draft Day



Sponsor athletes through your products or services to help prospects move into their new cities to generate buzz and PR

Have the athlete do a TikTok video on how your product is part of their Draft Day routine, e.g. showing them wearing, eating, cooking with, drinking, training, grooming with your brand

Get in front of die hard fan-bases, who will follow the newest player on their team through more targeted Regional Marketing campaigns.

Can't work with a draft pick, but still want to be involved? Partner with a recent rookie, an active or retired player or even an analyst to create content around this draft season! Check out our roster of

12,000+ athletes


Find the rising star for your next campaign:
BOOK A CALL for a free consultation with a brand specialist