Having an ROI formula to understand and track the return on investment of any marketing spend is an absolute must for any marketing department.
For any agency, marketing tech startup, or even anyone selling marketing solutions ... being able to offer a ROI formula is an absolute necessity to survive. The better your clients can understand and track ROI through a data-driven approach, the more likely they will stay with you and spend more marketing dollars.
Here at OpenSponsorship, we have completed thousands of deals to date, and therefore we created a ROI formula to help our brands and marketing managers understand and track their marketing results. We gave our engineers the challenge of building products, tools, and features that could be the first step to having the ultimate ROI calculator to show our brands a simple but effective ROI formula to calculate ROI on their sponsorship spending and influencer marketing spend through our platform.
Today, I'm pleased to share they lived up to the challenge! We are well on the way to the ROI calculator coming together through a ROI formula that comprises of understanding brand awareness uplift, social media uplift, and sales conversions.
Here are some of the elements that play into our ROI formula:
1. Tracking ROI through Google Analytics integration
A big part of our ROI formula includes data from Google Analytics. Our integration allows marketers to easily and transparently understand the impact of an athlete's endorsement on website metrics using Google Analytics data. For example, when an athlete becomes a brand ambassador for a sponsor, every time they post on social media or attend an event, the ROI Google Analytics tool shows the uplift to company website traffic, to specific pages, or to any conversion goals that are set up in google analytics.

2. Tracking ROI through Shopify integration
Another major part of our ROI formula comes from our integration with Shopify. If you are one of the 600,000+ businesses using Shopify, we are the best way to measure your influencer marketing impact on Shopify sales. We have written extensively on how to do sponsorship deals effectively, but now we can also work together to measure these deals effectively. Using coupon codes we can track exactly how many sales come from each athlete's post. Integrations for other e-commerce platforms are coming soon, if you do not use Shopify let us know so we can let you know when your technology's integration is coming soon.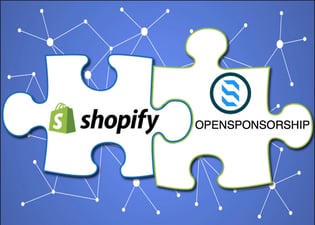 3. Using UTM tracking codes
When building a campaign on OpenSponsorship, you can include the website link for where you want the influencer's post to direct their followers to. We turn that link into a UTM link, meaning a unique link that we can track. This means we can give 100% attribution of how much traffic an athlete sends to your website without any hard work from your side -- all we need is the Google Analytics integration that takes less than 30 seconds to do!
4. Tracking Social Media metrics
Social media uplift is often the starting point for any influencer marketing campaign. We calculate a number of different factors:
CPE (cost per engagement) on each social media post
New followers acquired for the brand social media page
Increased activity created around the brand
Demographic change for the brand Instagram channel


We are very proud of the ROI formula that we have created to calculate, understand and track ROI on influencer marketing campaigns and sports sponsorship campaigns ran with athletes through OpenSponsorship. Let us give you a demonstration of our tools today so you can understand why a $1 spent on OpenSponsorship is a $1 well spent!