OpenSponsorship loves team sponsorships. In addition to working with athletes, we also do deals with Teams and Events. From brand awareness to skyrocketing sales, the possibilities of team sponsorships are endless.
Over the coming weeks, we will be doing a 3-part series on why you should consider team sponsorships and how to get started. REGISTER below to get access to future exclusive information on team sponsorships.
Part 1: Jersey Sponsorship
Part 2: Stadium activation, tickets, and hospitality
Part 3: Digital marketing benefits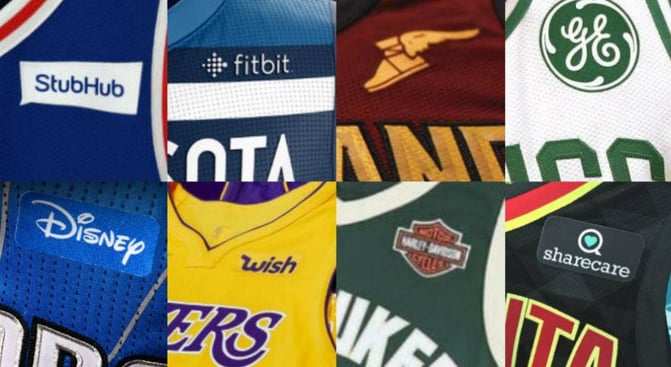 What is Jersey Sponsorship?
Jersey sponsorships are becoming increasingly popular as brands look to tap into the popularity of sports teams and the loyalty of their fans.
In jersey sponsorships, a brand will purchase the right to have their logo featured on the jersey of a sports team. This allows them to benefit from the tremendous exposure that comes with being associated with a popular and successful team, while also tapping into the passion and loyalty of sports fans.
Why is it Interesting?
Five years ago, no Big Four sports leagues (NBA, NFL, NHL, and MLB) had jersey sponsors. By next year, THREE of them will!
Jersey sponsorships help sports teams increase their value

The average MLB team could generate $8-10 million from selling sleeve patches to brands
Football club Manchester United makes $185 million annually on their jerseys alone
NBA jersey patches are expected to generate $225 million in revenue this season.

Tremendous exposure for brands

Approximately 58 million viewers in the US watched sports content at least once per month. It is projected to rise to over 90 million by 2025.
Soccer is the most-watched and most-played sport on the planet. Over 3.5 billion people or half of the entire world's population tunes in to the World Cup or considers themselves soccer fans.
On average, about 90% of all Americans watch some type of sports.
Jersey Sponsorship is an extremely powerful way to get your brand in front of the masses. Book a free consultation call today to learn more about team sponsorship and next steps to get started!