What does it cost to partner with an NFL player on a marketing campaign?
Are there any NFL players that are under $2,500?
What does it cost to work with an A-list NFL Player?

If questions like these are on your mind as the 2022-23 NFL season kicks off, we're here to help!
Why Partner With An NFL Player On Marketing?
With close to 1,700 professional NFL players and almost all of them being active on social media, there has never been a better time to work with an NFL player. NFL players are using their social media to collaborate with brands and make direct sales. There are multiple different outcomes of working with NFL Players, including event promotion, social media promotion, product endorsements, appearances, and more!
How is NFL Player Pricing Calculated?
The price ranges depending on the type of deliverable that is sent in a proposal to an athlete, generally social media posts are less costly than that of a longer-term campaign. Social Media posts can be as low as $1,000 for some NFL Players. Endorsements from companies like State Farm have a deal in place with Quarterback Aaron Rodgers that ranges between $2-3 million. While it might be extremely costly to sign a high-caliber star like Tom Brady, Aaron Rodgers, or Patrick Mahomes, there are still great affordable opportunities that can help grow your brand.
How to Find An NFL Player That Matches Your Budget
Generally, the standard rate of A-list NFL Players starts at $12,000, however, there are many great ways to find a wider range of athletes that are affordable and have stellar ROI.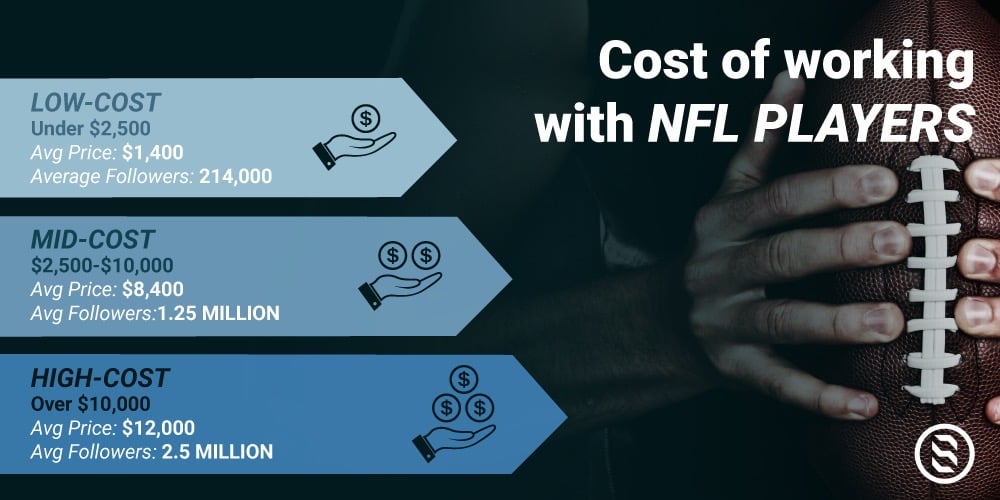 Example of an NFL Player under $2,500 to Sponsor
Example of an NFL Player between $2,500-10,000 to Sponsor
Sterling Shepard

Example of an NFL Player over $10,000 to Sponsor
How You Can Calculate the Price to Sponsor an NFL Player and Work with Them
The OS Athlete Pricing Engine uses our proprietary data from the thousands of deals we've completed, AI, and unique industry insights to assign the most realistic price for an athlete for a one-time social media campaign and a longer-term brand ambassador deal. Search for athletes that fit your budget, whether $500, $5K or $50K, and then in two clicks send them a proposal with your marketing opportunity to close the deal in a matter of hours.
Opensponsorship has features that allow users to search for in-depth information on particular athletes of interest. These features include the ability to see the personal interests of athletes, social media data, and demographic-based information. These tools are helpful to find an NFL player that would lead to a positive campaign result.
A simple way to create a campaign with an NFL player that is least costly is by sending a product directly to the athlete for an at-home picture that would be used for marketing purposes. This practice has gained a lot of growth in the digital content age, and has helped grow the number of deals created between brands and athletes.
Deebo Samuel at home marketing for Walmart
Find an NFL athlete that fits the marketing demographics goal! Selecting an NFL athlete to work with depending on the location of where they play or where they're from can be vital to help grow a successful campaign. NFL players have a huge community engagement both in person and online that cater to a wide range of demographics.
How to Contact NFL Players About Sponsorship
With the NFL season fast approaching, Opensponsorship works to give brands the right fit overall which leads to a successful campaign. Optimizing the tools on the platform can help brands navigate the best type of NFL player that fits the marketing criteria and costs. Check out how to get started and send proposals to NFL players today!
Tags: