Sports sponsorships and in particular athlete endorsements are one of the most under-utilized social media marketing tools. The opportunity for brands to tap into influencer marketing - not just through athletes but also through an ever-growing number of self-made vloggers, Tik-Tokkers and fitness fanatics, is greater than ever before.
Below is a list of our top 10 athlete influencers, both current and retired, who have maximized use of their social media platforms to not only to boost their personal brand, but also to bring attention to important social justice movements.
Odell Beckham Jr
With close to 19 million followers, 'OBJ' tops the leaderboard of NFL players on social media, while also having the highest number of interactions with over 66 million. Like a lot of other athletes, he has started to utilize the YouTube space more, having over 240k subscribers, to give a glimpse into his training regimen and other aspects of his daily life.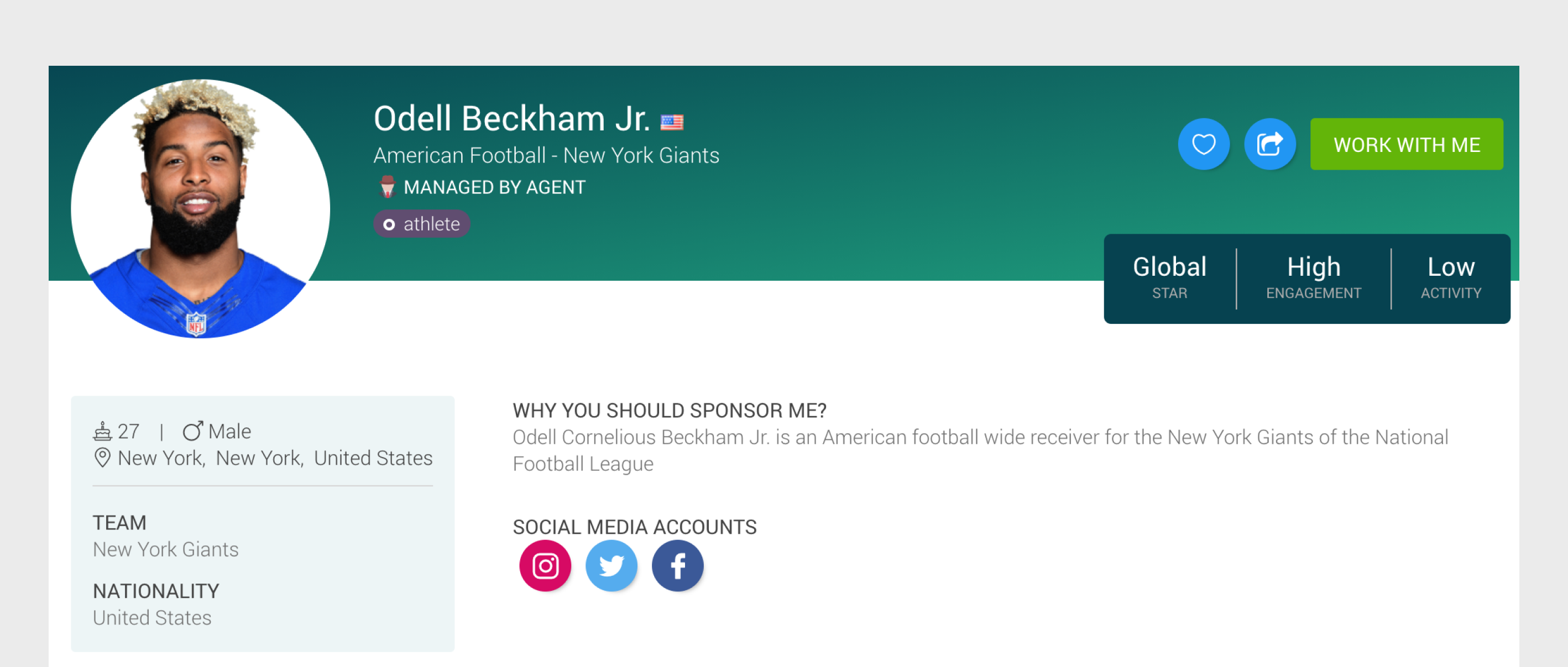 Check out Odell Beckham Jr. on OpenSponsorship
As the face of women's soccer in the United States and one of the key figures behind the USWNT's victory at the World Cup last year, it is no surprise that Morgan maintains a strong influence on Instagram, with 9.2m followers. Beyond her life as an athlete, Morgan makes herself very relatable to fans, frequently posting photos and videos of her family life, while also using the platform to push forward important social justice causes.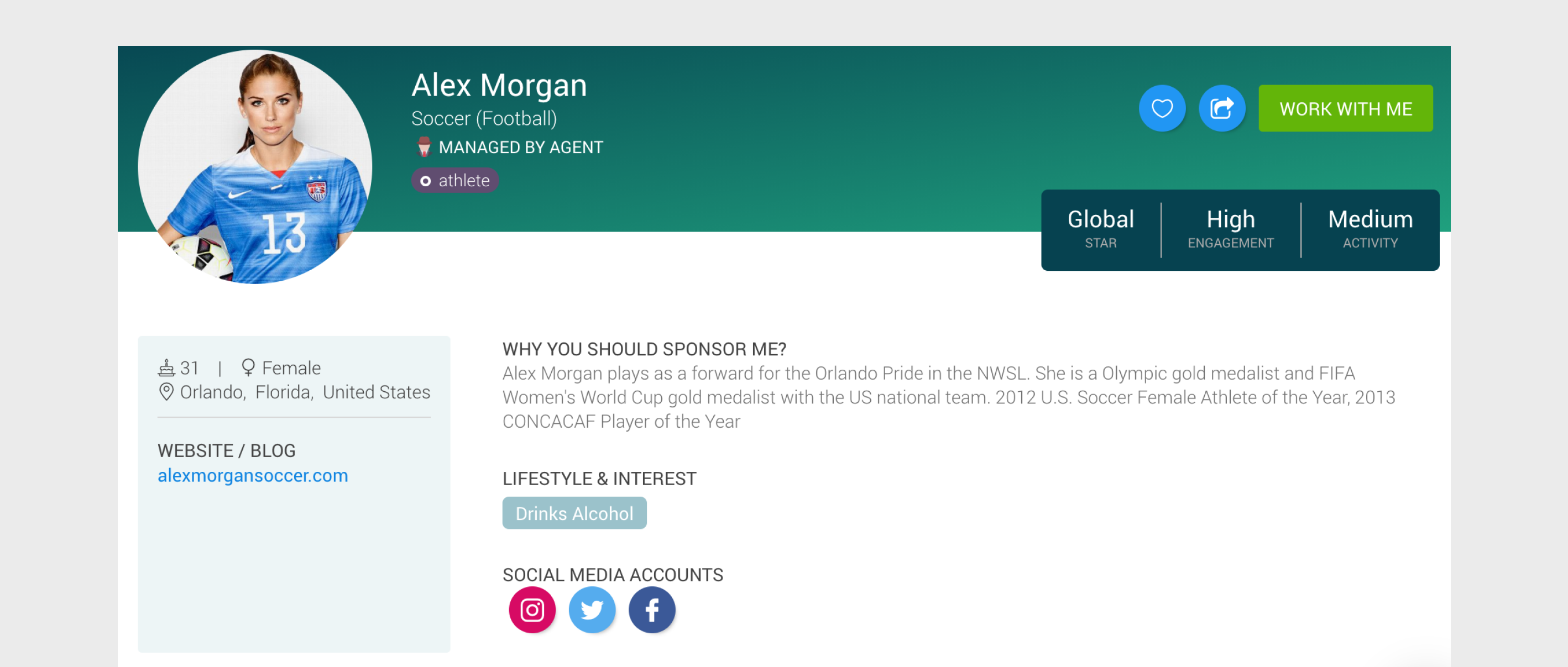 Check out Alex Morgan on OpenSponsorship
Widely regarded as the best goalkeeper in the world, Hope's resume speaks for itself - a World Cup Champion, two-time Olympic gold medalist and winner of the 2011 and 2015 FIFA World Cup Golden Glove awards. Solo is recognized as a leader in the fight for equal pay and in 2016, was one of five members of the USWNT to file a wage discrimination claim against the Federation. She has been an influential voice on and off the field, sharing the stage with U.S. senators, heads of state, business leaders and global activists from around the world advocating for women's rights and gender equality. Now retired from the game, Solo looks to continue her career within the sport as an emerging soccer analyst with BeIN Sports, while also regularly sharing the joys of family life on Instagram to her 1m followers.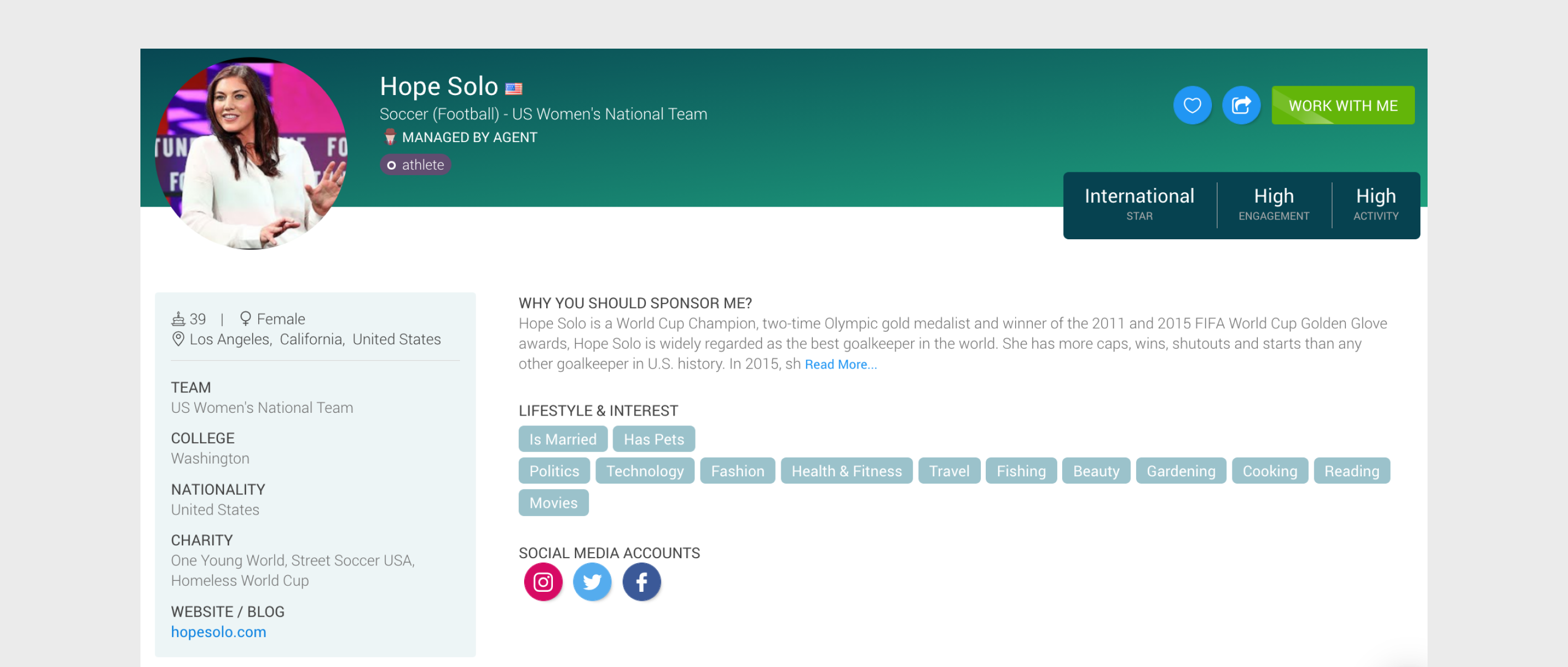 Check out Hope Solo on OpenSponsorship
At OpenSponsorship we are lucky enough to work with a large number of the US Women's Soccer Team, and the numbers don't lie: with a 12% average engagement rate, they are great at creating fun content that delivers high ROI!
Jon 'Bones' Jones is widely regarded as one of the greatest mixed martial artists ever - a two-time undisputed UFC Light Heavyweight Champion and the current #1 in the UFC's pound-for-pound rankings. More recently he has vacated his belt in order to target the heavyweight division. At age 23, Jones became the youngest champion in UFC history, while also holding numerous UFC records in the light heavyweight division - most title defenses, most wins, longest win streak, and most submission victories.
With 5.3m followers on Instagram, Jones has strived to lead by example. Earlier this year he helped found the C.A.R.E. Project, a grassroots local nonprofit organization dedicated to the cleanup and beautification of New Mexico, with a mission to empower, unite and engage New Mexicans through collective action and hands-on initiatives and projects that improve their communities. As a globally recognized figure in the world of MMA, Jones, along with many other fighters signed up on OpenSponsorship, recognizes the ability to utilize his platform for powerful brand marketing.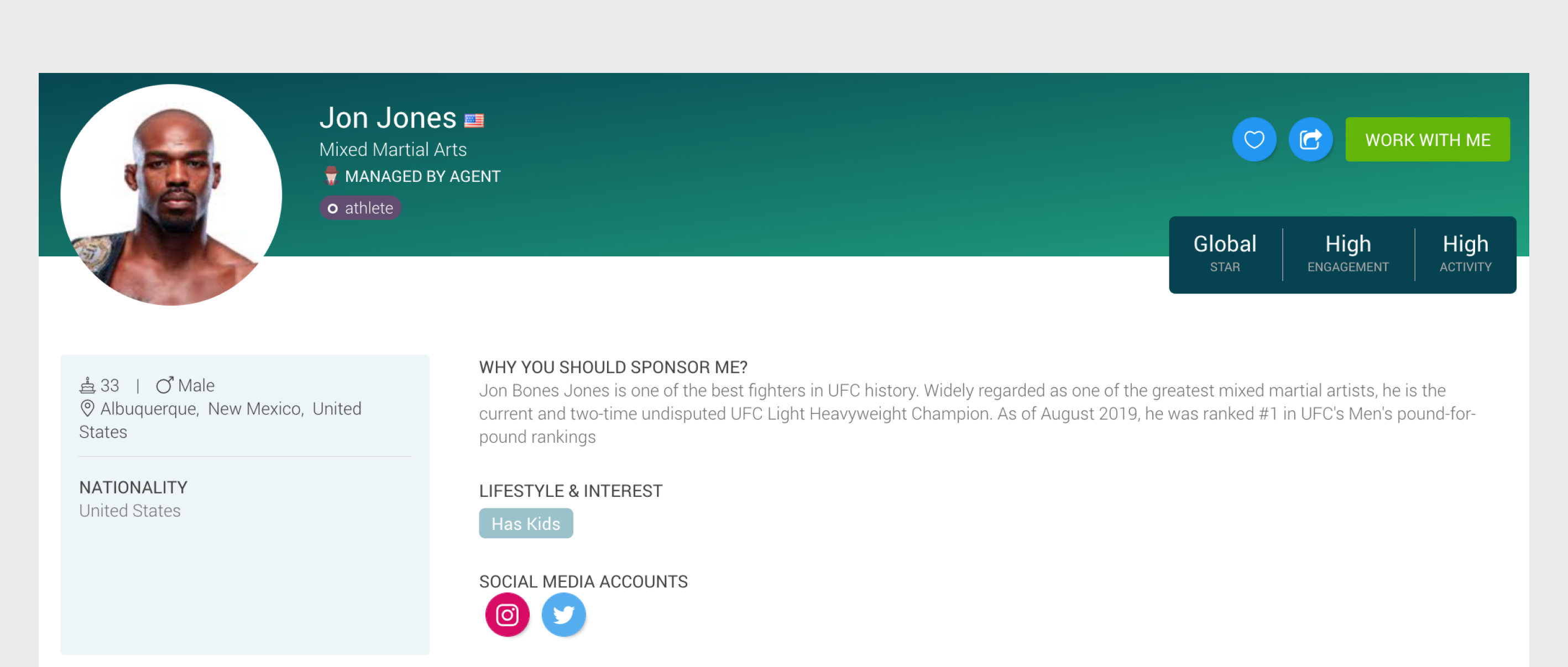 Check out Jon Jones on OpenSponsorship
Westbrook is the only player in NBA History to average back to back triple doubles. Also, he's one of the most athletic athletes ever. Off the court, his media interactions have become legendary across social platforms through funny memes and GIFs. Heavily involved in charity work in the community, Westbrook started the Why Not? Foundation in 2012, dedicated to supporting community based education and family service programs while encouraging youth to believe in themselves. Using his platform of 15.6m followers on Instagram, Westbrook regularly posts about his foundation, while also bringing awareness to important social justice causes such as Black Lives Matter.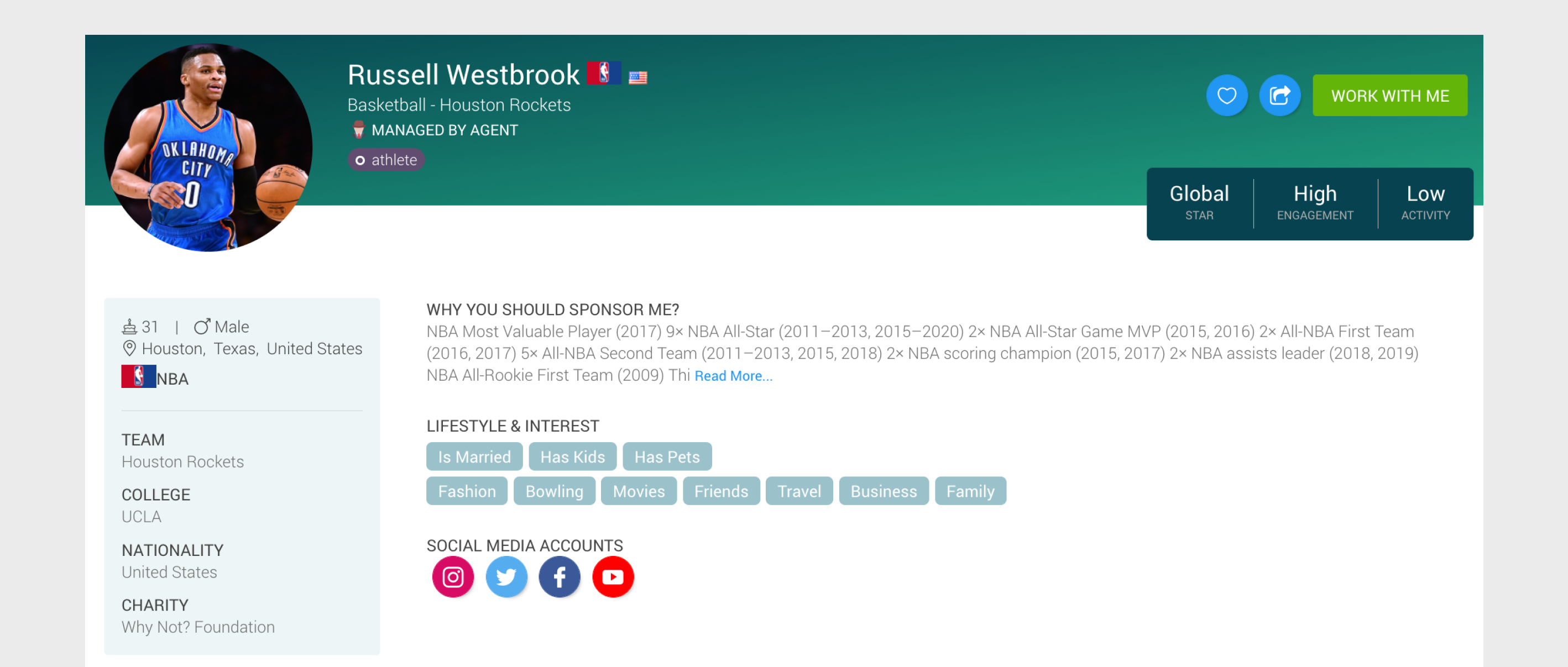 Check out Russell Westbrook on OpenSponsorship
Gabby is an American gymnast and 3-time Olympic gold medalist, notably becoming the first African American Olympic individual all-around champion at the 2012 Olympics. With 1.5m followers on Instagram, Gabby has given fans a glimpse into her lifestyle, regularly posting casual selfies and her personal thoughts. Not afraid to speak out, Gabby teamed up with Hack Harassment, a group that seeks to reduce online bullying, after having endured harsh criticism on social media during the Rio Games.

Check out Gabby Douglas on OpenSponsorship
An Ex-NBA All-Star and the NBA's only three-time slam dunk champion, Nate has proved a fan favorite wherever he goes - be it with the New York Knicks, Boston Celtics, Oklahoma City Thunder, Golden State Warriors, Chicago Bulls, and Denver Nuggets. Currently, Nate has partnered with longtime friend, and former teammate Carlos Boozer to start Holdat Clothing. With 2.4m followers, Nate regularly posts training highlights, and most recently has been working tirelessly in preparation for his boxing match with Jake Paul.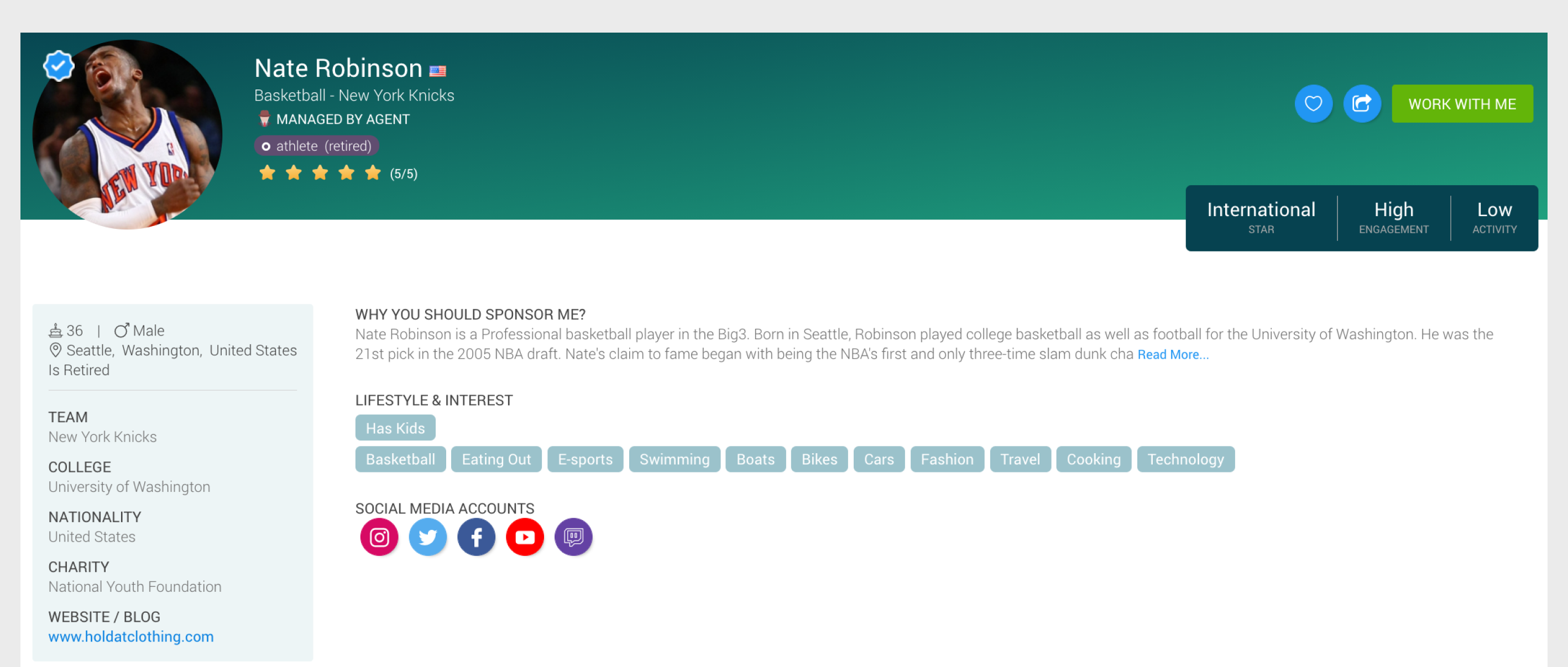 Check out Nate Robinson on OpenSponsorship
As the record goalscorer for the England national team and Manchester United, Rooney is a global legend and icon in the soccer world and beyond, with a massive social following of over 17 million. Regularly posting photos with his family and spending time with his kids off of the pitch, Rooney's social media influence is perfect for brand partnerships and exposure, and is undoubtedly a role model for future generations to come.
Check out Wayne Rooney on OpenSponsorship
Cris Cyborg is one of the most feared women on the planet, having had an incredible 13-year unbeaten period as a mixed martial artist. She is currently the Bellator Women's Featherweight World Champion, having been the former UFC, Strikeforce and Invicta FC World Featherweight Champion. Outside of the cage, she is known for her humanitarian and community service work with Cyborg Nation, and is an incredible example for aspiring martial artists to look up to.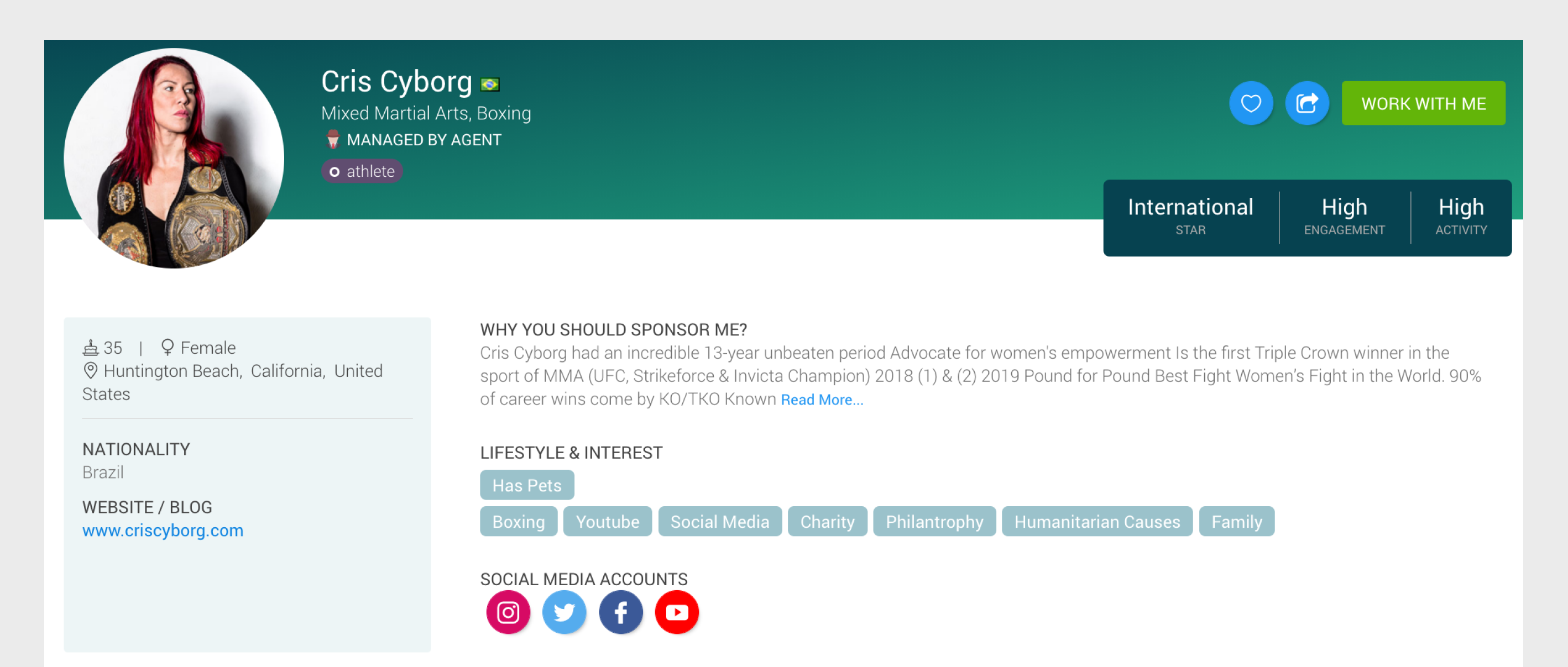 Check out Cris Cyborg on OpenSponsorship
Jake is a YouTuber, musician, actor, and more recently a professional boxer. Featuring on the undercard of the hotly anticipated exhibition fight between Mike Tyson and Roy Jones Jr., Jake will face off against ex-NBA player Nate Robinson. Although not your typical athlete, Jake's presence on social media is unmissable. He initially became enormously popular alongside his brother Logan on the 6-second video app Vine, reaching over 5 million followers. He now regularly posts vlogs and other creative content on YouTube to over 20 million subscribers, and has undoubtedly made the most of social media to generate revenue. Jake has also done numerous collaborations with top brands, such as with the likes of television broadcaster HBO, drinks giant Pepsi and telecoms company Virgin Mobile.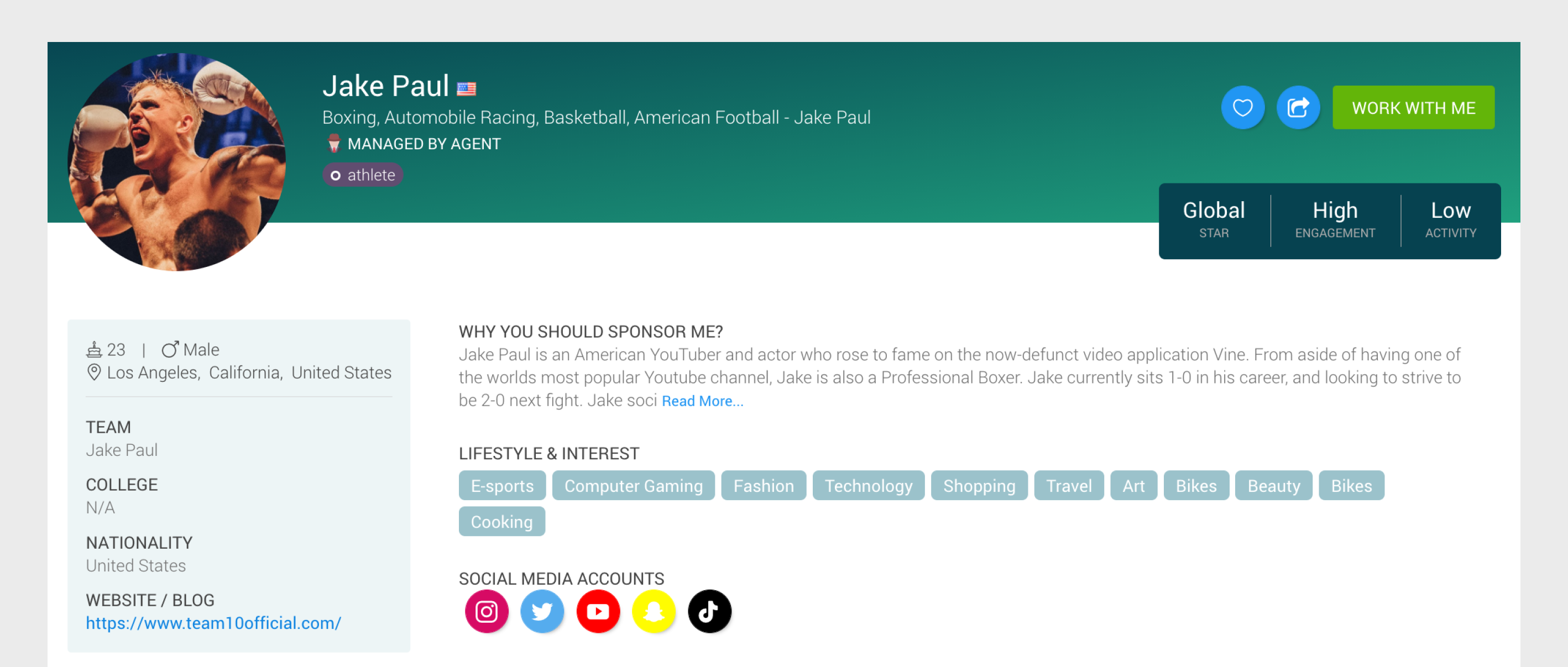 Check out Jake Paul on OpenSponsorship
As athletes increasingly utilize their social media platforms for influencer marketing, the potential for brand partnerships can only grow. Whether you're a globally recognized brand or just starting out, OpenSponsorship has athletes to fit every campaign budget and goal.