A sometimes overlooked aspect of a sponsorship deal is the opportunity to be able to repurpose the content that the athlete influencer creates. By agreeing to a deal with an athlete on OpenSponsorship, you can request the rights to that content to be able to repurpose it in your marketing strategy, whether it be email marketing, including it on your website, or best of all, whitelisting the athlete's Facebook and Instagram accounts to run paid ads with the content.
If you're not familiar with whitelisting- the idea is simple. You can take the photo or video that the athlete created, add a caption, and make the advertisement appear as a post from the athlete's account. By sharing the ad from the athlete's account, it brings a different level of trust and authenticity that can not always be replicated by a post coming from your brand account.
And here's the best part- OpenSponsorship can set it all up for you. By sending simple requests for limited access to your brand account and the athlete account, OpenSponsorship can create the advertisements and set up the whitelisting for you. These ads can feature a discount code to further incentivize your audience to make a purchase and Facebook's business manager can optimize these ads toward driving sales or whatever else your desired action may be.
Let's take a look at some OpenSponsorship brands that have whitelisted ads using content from their athlete deals: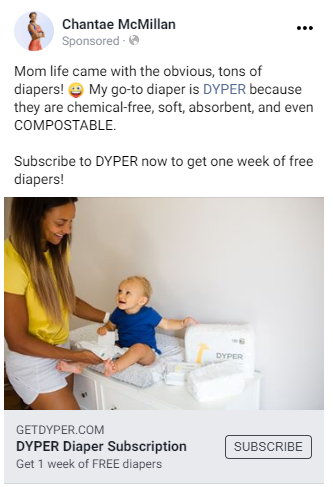 Chantae and DYPER teamed up to give Chantae some diapers and help out her journey as a mom! Once Chantae created her content, DYPER then whitelisted ads from her Facebook account to share with fans, along with an offer of 1 week of free diapers for every new subscriber. Diapers are a must for any new parent, so who would say no to some free ones?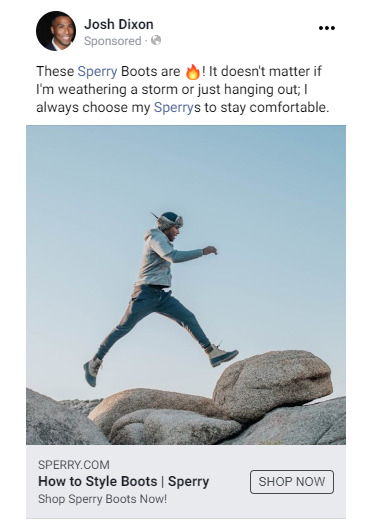 Josh took this awesome photo in his Sperry boots, so Sperry took it and repurposed it in a Facebook ad. They targeted this ad towards people with an affinity for fashion and people with an affinity for boots. They saw awesome success with this one and were able to get their boots on the feet of consumers just in time for winter!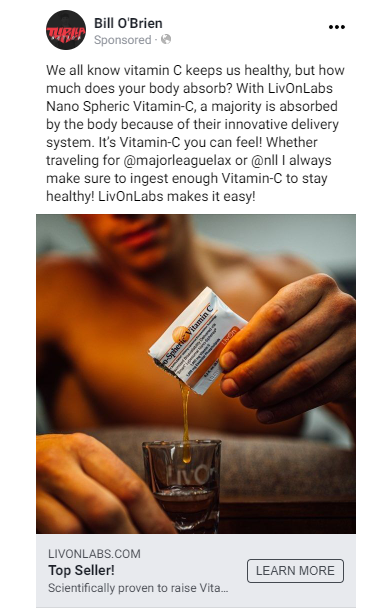 Another awesome piece of content, this one from Bill O'Brien. LivOnLabs thought the same thing, so they used this photo in Facebook ads to teach consumers a bit about their product and encourage them to add it to their diet.

Whitelisting ads is a valuable way of leveraging your sponsorships that allows you to effectively market towards your exact target audience. If you have a recent OpenSponsorship deal you'd like to whitelist ads with, or want to find the perfect athlete for a new deal to try out whitelisting, reach out to an OpenSponsorship rep today or email us at info@opensponsorship.com to get started.