Luxury Fashion Meets Sports
Fashion partnerships with professional sports teams have become increasingly popular over the last few decades. Fashion companies are using these collaborations to help grow and build their brand awareness. Apart from the traditional sports fashion retailers: Nike, Adidas, and Puma, high-end European fashion brands have been collaborating with teams to expand their audiences. In recent news, soccer club Roma recently announced a partnership with Italian brand Fendi. The two-year deal will see Roma athletes being dressed in Fendi off the pitch. The partnership comes after a variety of similar competitive partnerships such as Inter Milan and Moncler, and Hugo Boss and Paris Saint Germain. Both clubs and fashion brands have found great success in accomplishing long lasting partnerships to benefit both sides.
Roma x Fendi
Paris Saint-Germain has been focused on building fashion partnerships in recent years to increase its exposure in the international market. The club has been working over the past few years to build team stores in a variety of cities such as: Paris, Tokyo, Los Angeles, and a new large store located on 5th avenue in New York City. Hugo Boss and Paris Saint Germain sell a variety of modern clothing as well as a line of athleisure wear. Fashion brand Dior and Paris Saint-Germain recently created a 2-year partnership to get underway. The luxury brand is working to grow its athletic related collaborations with some of the most recognized athletes like: Kylian Mbappe, Lionel Messi, and Neymar. Having some of the most recognized athletes in the globe is a huge boost for fashion brands to reach and appeal to new markets.
PSG x Dior
The capital of fashion, Paris, has been known for the first Jordan brand and soccer club collaboration. The annual modern designs that PSG and Jordan brand work on have been changing the ways in how teams want to appeal to fans. The creation of Jordan sneakers with Paris-Saint Germain gave sneaker heads around the world an exclusive clash of worlds. The cross of worlds has helped PSG's brand image grow across the world and especially in Western culture.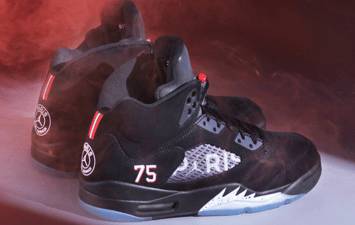 Final Thoughts
The growing trend in fashion partnerships with soccer clubs is allowing for the growth of new market expansions. Luxury brands are using the powerful image that athletes have to grow new customers. With the growth taking place in Europe, American sports teams will be making the next push in luxury brand partnerships. With these changing times, reach out to OpenSponsorship on how to collaborate within the world of fashion and sports by clicking the banner above. Alternatively, sign up for OpenSponsorship for free here!