Influencer Marketing Ideas for Super Bowl LVII

The 22-23 NFL regular season has come to a close, which also means the Super Bowl, aka America's biggest sporting event, is almost here. All eyes are on the NFL and it's not too late to think about ways to leverage influencer marketing during the game. Our team has come together to share how you can still get involved for way less than those $8 million halftime commercials.

So, what is your marketing game plan for Super Bowl LVII?


NFL players to partner with for your Super Bowl campaign on a budget (under $15k)

We gathered a list of NFL players that are on the OpenSponsorship platform and ready to do a deal ASAP. Each player below is actively in the NFL and has an entry-level price of $15k or less. Each player has a unique lifestyle that can fit most brands.
Need a parent to represent a non-profit organization? Lawrence Guy, a family of 5, is a perfect choice.
Looking for a fashion-forward man to represent your watch brand? Xavier Woods has the style you need.
Want to build awareness among 18-24 car enthusiasts? Eric Kendricks runs a YouTube channel about cars.
Using the OpenSponsorship platform, we broke down these players' audiences and reach.
Xavier Woods - Safety, Carolina Panthers
Robbie Anderson - Wide Receiver, Arizona Cardinals
Solomon Thomas - Defensive Tackle, New York Jets
Patrick Peterson - Cornerback, Minnesota Vikings
Shaquille Darius Leonard - Linebacker, Indianapolis Colts
Eric Kendrick - Middle Linebacker, Minnesota Vikings
Lawrence Guy - Defensive End, New England Patriots
Lavonte David - Linebacker, Buccaneers
NFL out of Reach? Activate College Players
Working with college athletes is also a fantastic way to supercharge your Super Bowl campaign at a lower cost. From 'Product Seeding' deals to longer-term brand ambassador deals, partnering with college athletes gives you a wide array of benefits for your brand when it comes to marketing.
Check out some of our top picks below:
Caylin Newton, Auburn Football
Being the younger brother of former NFL MVP Cam Newton, Caylin Newton has certainly been paving his own path. Coming off a clutch blocked punt for a touchdown vs. Georgia State, it was the turning point that the Tigers needed to mount a comeback and eventually win the game. Newton joined the Tigers as a graduate wide receiver after spending three seasons at Howard University as a quarterback. He looks to continue his impressive run at his older brother's alma mater.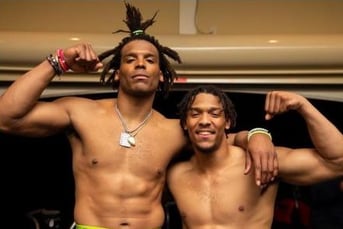 Bryce Young, Alabama Football
Fresh off a national championship for the Crimson Tide (again) in 2020, and being the nation's top-ranked dual threat quarterback coming out of high school, Young has been making a huge splash in the college football world. Having earned the starting job at quarterback after spending his freshman season backing up now Patriots QB Mac Jones, Bryce Young led the Crimson Tide to another amazing season ending with another trip to the College Football Playoffs and a Heisman trophy as a personal accolade.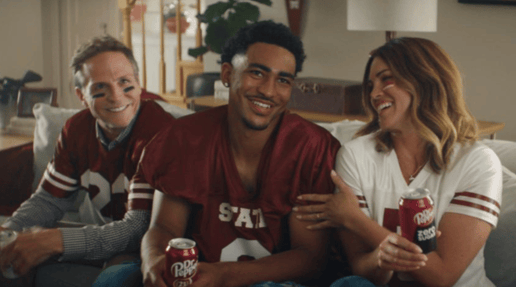 Jadyn Marshall, UCLA Football
Jadyn Marshall is a wide receiver for the UCLA Bruins. He is a 4-star athlete and is considered to be one of the best wide receivers in the 2022 class. Jadyn is an electric multi-sport athlete who also played basketball and ran track & field. During his final football season at Saint Mary's, Marshall had over 1,800 all-purpose yards. He caught 29 passes for 563 yards (scored 5 touchdowns), rushed 87 times for 982 yards (scored 11 touchdowns), recovered 8 kickoff returns for 240 yards (scored 1 touchdown), and returned 10 punts for 87 yards (scored 1 touchdown)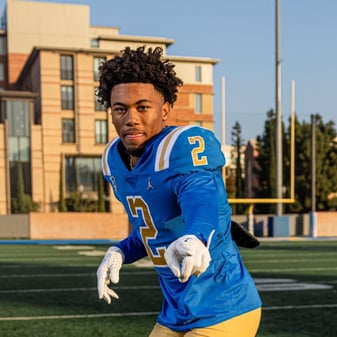 Marketing Ideas to get your Brand Involved in Super Bowl LVII
Our team of expert account managers put together a few marketing campaign ideas to help get the creativity going. Feel free to contact our team about any of the ideas below. The ideas range from product seeding to a focus on regional marketing of a physical location.
1. Product Seeding
Work with NFL players by sending over free products, in exchange for a social media post on their feed, aka product seeding. This is a simple yet effective way to reach a large and engaged audience of consumers who will respond positively to product promos or ads related to the big game. Athletes, especially NFL players often have very loyal fanbases that are more likely to purchase products recommended by their favorite NFL players.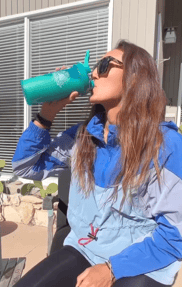 2. User Generated Content for Ads
Brands have realized the power of user-generated content in their advertising campaigns, and with the help of NFL players they can tap into an even greater source. By partnering with one or multiple NFL players, brands can gain access to millions of devoted fans who would be more than willing to share their support through exciting UGC initiatives. Through these campaigns, brands can leverage their relationships with NFL stars as a way to boost engagement on social media and create unforgettable experiences for their customers.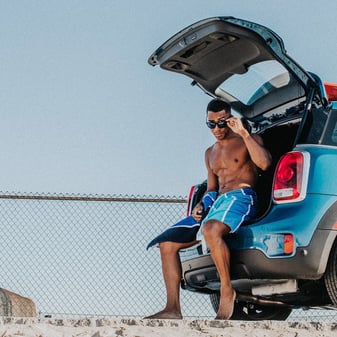 3. Product Giveaway
Run a product giveaway with an NFL player throughout the Super Bowl on social media to raise awareness for your brand and create a potential for viral marketing. Product giveaways through athletes have a ton of benefits - an immediate one being an increase in social following on your brand's social media.
BONUS IDEA - Regional Marketing
Work with NFL players who have a strong local presence to engage specific regional audiences—for example, running a toy drive or non-profit event sponsored by your brand.
Final Thoughts
Now is the perfect time to supercharge your Super Bowl marketing strategy. We have suggested a variety of different ways your brand can get involved without breaking the bank. From working with NFL players to create user-generated content for ads through their fans, to working with college football players on Product Only deals, the possibilities are endless. At OpenSponsorship, we have over 3000+ football players ready to work with you, and we also have a team of experts ready to help you run a high ROI and successful Super Bowl campaign. Book a free consultation call today to get started!